Gala recital on the National Day of Romania with soprano Alexandra Coman & pianist Livia Teodorescu-Ciocănea
01/12/2011 @ ICR London, 1 Belgrave Square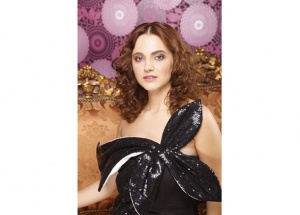 This year, on the occasion of the National Day of Romania, we invite you to a gala recital given by Alexandra Coman, the successful and well-known Romanian soprano, together with composer Livia Teodorescu-Ciocănea. They will offer the audience an outstanding programme that includes great operatic arias and songs by Enescu, Puccini, Debussy Brediceanu and Chopin, among others.
The concert will be followed by a reception with traditional Romanian food and drinks.
Alexandra Coman is one of the most talented and well-known Romanian sopranos. She has attended master classes held by Luciano Pavarotti and Katia Riciarelli, has performed in prestigious concert halls both in Romania and in Europe, and has shared the stage with illustrious artists such as Jose Carerras, Placido Domingo, Alex Vicenes and Carry Persson. Alexandra has an impressive repertoire as well as a versatile use of vocal registers. Jose Carreras said about her: 'Alexandra Coman is a very talented artist with a great career before her', while Luciano Pavarotti described her as having 'a beautiful voice of interesting colour and brilliant quality'.
Livia Teodorescu-Ciocănea is a Romanian composer, concert pianist and associate professor of Composition at the National University of Music in Bucharest. Her honors include two Grand Prizes of the Romanian Composers Union (2001 and 2002), for the Red and Black Ballet (based on Stendhal's novel) and Oratione aliquot Sanctae Briggitae choral composition. Ms. Teodorescu-Ciocănea published several articles in Romanian and international music magazines and two books. Her music is a part of the repertoires of the Bucharest National Opera and many other musical institutions in Italy, Spain, UK, Ukraine, Republic of Moldova, Denmark, Australia and USA.
The concert is organised in partnership with the Romanian Embassy in the UK and is part of the Enescu Concerts Series, jointly organized by the Romanian Cultural Institute in London and the Enescu Society.
When: Thu 1 Dec 2011, 7pm;
Where: Romanian Cultural Institute, London
Admission is free, but places are limited. Early booking is well recommended.
Please reserve your seats at T: 020 7752 0134, E: office@icr-london.co.uk.