Gabriel Achim's hilariously dark comedy 'The Last Day' premiers in London
18/06/2017 @ Rich Mix Cinema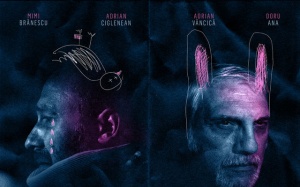 We are thrilled to support the international premiere of 'The Last Day' (Ultima zi), a people's favourite in Romania, in the presence of director Gabriel Achim and screenwriter Cosmin Manolache. The gala screening will close the Discovery section of the East End Film Festival at Rich Mix on June 18th.
The story revolves around the mayor of a small town, the chief of police and the president of the local Christian youth league who are accompanying their friend, the introverted engineer Adrian, on his way to the monastery where he has decided to start a new life as a monk.
This independent dark comedy won the Romanian Days award at the Transilvania International Film Festival (TIFF) in 2016 and closed the European Film Festival in Bucharest in May 2017.
Director: Gabriel Achim
Cast: Doru Ana, Adrian Văncică, Adrian Ciglenean, Mimi Brănescu, Rodica Lazăr
DoP: George Chiper-Lillemark
Running Time: 105′ | Year: 2016 | In Romanian with English subtitles.

A mayor, a policeman and a Christian Youth leader get into a car… Whilst this might sound like the opening of a classic joke, the truth of Gabriel Achim's second feature is something much richer. But that's not to say that it's not very, very funny. The Last Day follows these three friends as they accompany Adrian to the monastery. He's about to give up his sinful life and devote the rest of his days to the cloth. But becoming a monk doesn't mean you get to leave your past behind, especially when your past has plans for you, and especially when the mayor is an avid amateur filmmaker. A long and winding journey full of twists and turns, The Last Day stars a veritable who's who Romanian cinema – Doru Ana, Mimi Brănescu, Adrian Văncică and Rodica Lazăr – and was made on a shoestring budget. Nevertheless, Achim's film is laden with atmosphere, gripping drama, droll humour, and some very important dogs. Powerful, independent filmmaking from the next great Romanian auteur. (East End Film Festival)
Gabriel Achim's The Last Day, a dark comedy about faith, fidelity and forgiveness, stood out among a strong selection of Romanian films. A road-movie about dilemmas of the soul, the film charts the journey undertaken by four men accompanying their friend to a nearby monastery to start a new life as a monk. Theology and philosophy are discussed with lighthearted abandon en route, with the conversation growing more intense as the men make their way back home. The final half-hour sees the jocular humour take a turn for the worst during a vodka infused breakfast of barbecued meats and drunken boasting that teases out the film's big reveal. A commanding and intellectually gratifying work from a director worth keeping an eye on. (Little White Lies, The five best films from the Transilvania International Film Festival)
Founded in 2000, the East End Film Festival is one of the UK's largest film festivals. An annual multi-platform festival held in London, the EEFF presents a rich and diverse programme of international premieres, industry masterclasses, free pop-up screenings and immersive live events. The EEFF's mission is to discover, support, and exhibit pioneering work by global and local independent filmmakers, and to introduce viewers to innovative and challenging cinematic experiences.
When: Sun 18 June, 19:40
Where: Rich Mix, 35-47 Bethnal Green Rd, London E1 6LA
Tickets: from £5 to £10.75 from Rich Mix website. RCI friends: please use promo code TheLastDay in order to get the 2-for-1 offer.

Official teaser: