From the Oscars to our Cinematheque
19/03/2018 @ Romanian Cultural Institute London, 1 Belgrave Square, SW1X 8PH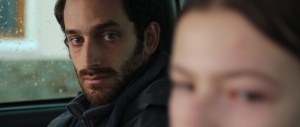 We are pleased to be hosting, at the Romanian Cinematheque, Adrian Sitaru's powerful and unsettling 'The Fixer', a neo-realist tragedy for the modern world. The film, depicting the sordid realities of journalism, represents Romania at the Oscars and was included in the selection of several festivals like Film Fest Gent, Cairo International Film Festival, D'A Film Festival Barcelona, goEast Festival and Torino Film Festival.
Followed by a Q&A with actor Tudor Aaron Istodor.
'The Fixer' follows the story of Radu (Tudor Aaron Istodor), an aspiring journalist at a French press agency in Bucharest. When Radu finds out about Anca (Diana Spatarescu), a 14 years old prostitute who has been repatriated from France, he is driven by ambition to prove himself as a reporter. But the further he follows the story, the more he begins to question the moral boundaries of journalism.
"...an arresting drama... an emotionally potent treatment of larger issues... coolly observational... first-rate" - Variety
"well observed… scenes are incisive as they are unforced… reaches a quiet but powerful crescendo" - Hollywood Reporter
Director: Adrian Sitaru
Stars: Tudor Aaron Istodor, Diana Spatarescu, Mehdi Nebbou, Nicolas Wanczycki
Running time: 100 minutes
When: 19 March, 7pm
Where: Romanian Cultural Institute, 1 Belgrave Square, London SW1X8PH.
In Romanian with English subtitles.
Admission is free and the seats are allocated on a first come, first served basis. Please confirm your attendance on Eventbrite.