From Texas to Romania, via London: 'Hotel Dallas' at the Romanian Cinematheque
13/09/2017 @ Romanian Cultural Institute London, 1 Belgrave Square, SW1X 8PH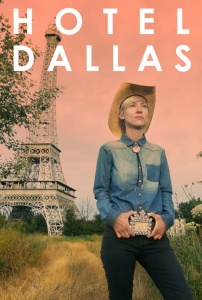 At The Romanian Cinematheque we continue our string of London premieres with the hilarious 'Hotel Dallas', directed by Livia Ungur and Sherng-Lee Huang, first shown at the Berlin International Film Festival in 2016. The film mixes narration, interview, re-enactment and fiction in an exciting docudrama about exotic aspirations, featuring American matinee idol and 'Dallas' series star Patrick Duffy.
'Hotel Dallas' revisits the strange love affair between communist Romania and the long-running TV soap 'Dallas', the only film broadcasted on tv in the 80s. The show's vision of wealth and glamour mesmerized millions living under the communist dictatorship, including Ilie, the main character, and his daughter Livia. After the fall of the communism, he builds Hotel Dallas, a life-size copy of the 'Dallas' mansion.
Characterised as "must-see" (Indiewire), and a "wondrous work of art" (Huffington Post), the film was also presented at the Museum of Modern Art (USA) in 2016 and at various international film festivals.
Directors: Sherng-Lee Huang, Livia Ungur
Writers: Livia Ungur, Sherng-Lee Huang
Stars: Maria Croitoru, Patrick Duffy, Larry Hagman, Livia Ungur
When: 13 September 2017. 7PM
Where: Romanian Cultural Institute London, 1 Belgrave Square, SW1X 8PH
Free entry. Please book your seat here.