Devil in Paradise: Forest Fruit at the Romanian Cinematheque
26/04/2012 @ 1 Belgrave Square, SW1X 8PH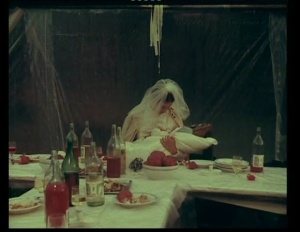 We invite you to the screening of Alexandru Tatos' realist film Forest Fruit (1983), which tells a story of deceit and betrayal set up against a background of arcadic beauty.
The 17-year-old Amalia (Manuela Boboc), the daughter of a widower lumberjack with many children, falls in love with a soldier. An irresponsible young man, the soldier refuses to admit that he is the father of the child to be born, as Amalia was just a fling in his eyes. Amalia decides to raise the kid all by herself, but she soon changes her mind… Tender and ironic, lyrical and sarcastic, offering a poignant vision of real life, the uniqueness of Forest Fruit stands in the portrayal of a micro-world in which the sublime exists alongside the sordid, in which purity is matched by decadence and innocence by cynicism.
After his debut as director in 1974 with August in flames, Alexandru Tatos had an ascending career, directing a dozen films. Some of his best works are Red apples (1976), Astray (1978) and Gathering Clouds (1985).
Romania | 1983 | 90min | director: Alexandru Tatos | cast: Ion Besoiu, Manuela Boboc, Tudorel Filimon, Ion Fiscuteanu, Cornel Mihalache, Mariana Mihut. In Romanian with English subtitles.
The Romanian Cinematheque project is realized in partnership with the National Centre for Cinematography in Romania (CNC).
When: 26 April, 7 pm.
Where: Romanian Cultural Institute London
Admission is free but seats are limited. Early booking is well recommended. Please reserve your seats at T: 020 7752 0134, E: office@icr-london.co.uk. Latecomers will be able to go to their seats in the interval.