Florian Mitrea is the March "Pianist of the World" at St Martin-in-the-Fields
22/03/2013 @ St Martin-in-the-Fields, Trafalgar Square, Londra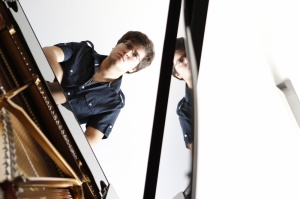 This year, Romanian talent takes the spotlight again on one of the most vibrant musical scenes in Central London. Our 2013 programme at St Martin-in-the-Fields kicks off with Florian Mitrea, who will appear within the seductive "Pianists of the World" series. The pianist, former recipient of the Enescu Scholarship (2010-2011), presents a programme including pieces by Scarlatti, Beethoven and Enescu.
Programme:
Scarlatti: Two Keyboard Sonatas in C major, K 420 and K 513
Beethoven: Piano Sonata op. 111 in C minor
Enescu: Pavane and Bourree from Piano Suite no. 2 op. 10 in D major
Born in Bucharest, in 1989, Florian Mitrea started studying piano with Professor Flavia Moldovan at the age of 6. After some very active studying years in Romania, he was awarded a scholarship to study at the Royal Academy of Music in London, which he graduated in 2012. He is currently enrolled on the Master of Arts programme, after being offered a scholarship to continue his studies at the RAM.
Florian Mitrea won of The Vienna International Piano Competition – Panmusica Austria 2010, the Beethoven Senior Intercollegiate Piano Competition 2010 and the Sheepdrove Intercollegiate Piano Competition 2011. He has been invited to perform at Eroica Saal-Vienna, St. Martin-in-the-Fields, Corn Exchange Arts Centre in Newbury and University of Warwick, and has given a recital at St. James' Piccadilly Cathedral. Florian gave the premiere of Dr. Timothy Jones' completed version of the Concerto for Piano, Violin and Orchestra by Mozart, together with the violinist Yuka Ishizuka and the Royal Academy of Music Symphony Orchestra, under the baton of Professor David Strange.
Florian is also a very active chamber musician. His duo with cellist Alex Rolton won the prestigious Brahms competition – Willfred Parry Prize. Florian was also awarded the Sonoro International Chamber Music Festival Scholarship in 2007 and 2009. Florian's performances have been broadcast by BBC Radio 3, the Romanian Broadcasting Society and the Romanian Television Corporation. He was generously supported by the Ratiu Family Foundation and he was the holder of the Enescu Society Scholarship – 2010/2011, offered by the Romanian Cultural Institute in London. He is a member of the Romanian Association for Culture, Education and Normality, and is involved in projects promoting Romania's cultural and spiritual heritage.
When: Friday, 22 March, 1pm
Where: St Martin-in-the-Fields, Trafalgar Square, London
This lunchtime concert is free and no ticket is required