The New Romanian Cinema arrives in Iceland
24/09 - 02/10/2011 @ Reykjavik, Iceland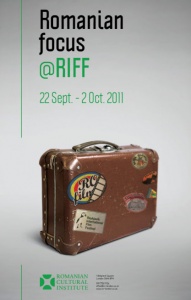 Focus on Romania @ Reykjavik International Film Festival
24 September - 2 October 2011
After Belfast, Dublin and London, Reykjavik is our next stop in 2011!
Be prepared to alight in the world of New Romanian Cinema as Reykjavik International Film Festival (RIFF) has a focus on Romania this year. This is a project organised by RIFF in partnership with the Romanian Cultural Institute in London and includes screenings, exhibition and concert, among others.
This special section will start with Adrian Sitaru - present at the festival as "Emerging Master" with his latest film, Best Intentions, recently awarded two Silver Leopards at Locarno Film Festival. Alongside, his debut feature Hooked will trap you in a weekend full of adventure and turnarounds. And that's not all… three of Sitaru's award-winning short films will be screened: Waves (2007), Lord (2009) and The Cage (2010). Adrian will spend time with his audience & journalists, and, outside screenings, he might experience the beautiful Blue Lagoon, or perhaps listen to Björk or Sigur Rós.
The strong line-up of Romanian titles includes: Adalbert's Dream, by Gabriel Achim, Crulic by Anca Damian, Loverboy by Catalin Mitulescu, The Autobiography of Nicolae Ceausescu by Andrei Ujica, Outbound by Bogdan George Apetri, Tuesday, After Christmas by Radu Muntean and The Shukar Collective Project by Matei-Alexandru Mocanu. Most of the films already got prizes or were selected in the official competition in Cannes, London, Locarno or New York.
Taking a seat in this year's jury for the New Visions, RIFF's GrandPrix competition, is Tudor Giurgiu, president of the Transilvania International Film Festival, one of the best & oldest festival in Romania.
Last, but not least, the Romanian team is ready to delight the Icelandic & international audience with the Subjective Portraits exhibition, featuring work by celebrated photographer Alex Galmeanu. The subjects of the photographs are well-known Romanian directors and actors that Alex had the chance to meet.
At the end, is Iceland ready to party Romanian style?
The Festival's Club will host a cross-culture infusion of balkan-electro music brought by DJ Nico de Transilvania, ready to heat up the atmosphere all night long.
Timing and location of these events will be announced shortly.
Reykjavik International Film Festival (RIFF) was founded in 2004 by a group of film enthusiasts and professionals with the goal of creating an annual international film festival in Reykjavik. The aim was to establish a major film event to enrich and enliven the local film culture, but moreover, to become an international attraction. The foreign guests have a unique opportunity to participate in an exciting cultural event, as well as visiting a country renowned for its natural wonders and dynamic culture. In a short time RIFF has become quite well known among film enthusiasts and professionals. Gerald Peary from the Boston Phoenix called the festival "one of the best-programmed film festivals on earth, and with some of the most exciting guests."