Festive Children's Workshop
12/12/2020 @ online (Zoom)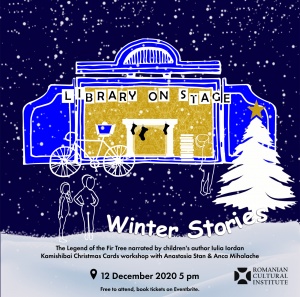 Join us for a cosy event to hear the beautiful Legend of the Fir Tree, narrated by Iulia Iordan with her Kamishibai theatre-frame and observe how the images help the story unfold.
Kamishibai means "paper drama" in Japanese and is an extremely versatile storytelling method, used in non-formal and formal education settings to enhance children's creativity, confidence and collaboration.
With the help of Anastasia Stan & Anca Mihalache, we'll create together personalized pull-out cards to tell our own winter stories, perfect companions for every Christmas tree.
Illustrator Madalina Andronic will be our special guest, reading her exquisite book "Five Sisters" (Stephanie Campisi – Familius US, 2020), a tale of heartache, hope, and love.
It's not snowing in London, but our imagination can take us to some magical white landscapes!
This workshop is part of the project "Library on Stage" aiming to transform the library room at RCI London into a community cultural hub, with a focus on young audiences.
The event is free and there are 25 spaces available.
Recommended age: 4-14 years. Language: English.
Please choose one favourite book related to winter to have it close to you.
When: Saturday 12 December, 5 PM. To take part in the workshop, you will need to register here.
The link to access the workshop and connect to Zoom will be sent by email a few hours before the event.