Fashion Is (Not) A Mask
09 - 22/02/2012 @ Institutul Cultural Român Londra, 1 Belgrave Square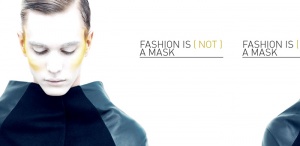 … say Romania's most outstanding designers in more ways than one.
Dinu Bodiciu, Mihaela Glăvan, Irina Marinescu, Carmen Secăreanu and Dan Mihai Zarug have a flair for romance and fantasy: against the odds, they deliver beauty in its purest forms, keeping alive the hope that beyond the horizon lies a promised land.
Drawing on themes such as choice, identity and belief, the exhibition Fashion Is (Not) a Mask speaks about current issues of social interaction, different versions of self and humanity in an age of consumerism and technology. What do we mean by words like 'spirit' and 'transcendence', are they still significant? What is the place of dream today, can it be the ultimate defense against conceit and apathy?
"The designers shown in this exhibition have a lot to say. They don't have the benefit of a well-tuned market, they haven't developed large businesses, but nonetheless they continue to dream, continuously challenging various masks, be they public or individual.
Fashion Is (Not) a Mask speaks about the actuality of Romanian contemporary fashion, about its power to re-imagine itself as a new ritual, a site of new dreams, utopias and visions in the modern age." Maurice Munteanu, exhibition curator, ELLE Romania
If you share an affinity for mysterious storytelling and complex geometries, then suspend your disbelief, come along and receive inspiring answers.
More details about the designers here.
The exhibition takes place within the International Fashion Showcase at the London Fashion Week 2012. In partnership with: British Council, British Fashion Council and LFW 2012.
Exhibition designer: Cristina Craciun, ELLE Romania.
When: 10 – 22 February 2012. Preview: Thursday 9 February, 7 - 9pm.
The exhibition is open: Mon – Fri, 10am – 5pm.
Where: Romanian Cultural Institute, London SW1X 8PH.
Free entrance.
Photo credits: Inno Brezeanu