Fashion Inside Out
03/02/2015 @ Romanian Cultural Institute, 1 Belgrave Square, London SW1X 8PH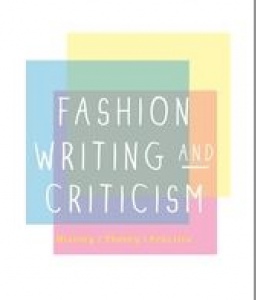 In eager anticipation of London Fashion Week, we invite you to explore fashion as a discursive practice and critical theme in the company of two of the most astute observers of this glamorous and pervasive cultural phenomenon, Sanda Miller and Peter McNeil. The two authors will present their recent publication, Fashion Writing and Criticism, and will examine various discourses by which, from rococo to punk, the ever changing world of fashion has been interpreted, approximated, and reported. The conversation will be introduced by Anna Wright of Bloomsbury Publishing, and will be accompanied by musical interventions by pianist Rose Cholmondeley.
Integrating history and theory, Fashion Writing and Criticism, recently published by Bloomsbury, explains the development of fashion writing, the theoretical basis on which it sits, and how it might be improved and applied. Through concise snapshot case studies, the authors analyse fashion excerpts in relation to philosophical ideas and situate them within historical contexts. Case studies include classic examples of fashion writing, such as Diana Vreeland at Harper's Bazaar and Richard Martin on Karl Lagerfeld, as well as contemporary examples among which Suzy Menkes and the blogger Tavi.
Sanda Miller is currently Research Fellow at Southampton Solent University and visiting lecturer since 2011 at Istituto Marangoni, as part of the Fashion Design and Fashion Styling courses. She started her writing career in the early 1980's with an article on Constantin Brancusi's 'Tirgu Jiu Complex' and has since continued to write books, both single-authored as well as chapters in books, exhibition catalogue texts, articles, reviews of books and exhibitions, both for the national press and specialized magazines. At present she is about to complete a book entitled 'The New History of Fashion' for Thames and Hudson.
Peter McNeil is Professor of Design History at the University of Technology Sydney and Professor of Fashion Studies at Stockholm University. In 2013 he was elected a Fellow of the Australian Academy of the Humanities. He is editor and co-editor of nine works on fashion, including the best-selling 'Shoes' (with G Riello, 2006; 2011); and the award winners: 'Critical and Primary Sources in Fashion' (4 vols, Berg, 2009) and 'The Fashion History Reader: Global Perspectives' (Routledge, with G Riello, 2010). He is a regular critic, reviewer and co-curator and has published with the National Museum of Australia, the National Gallery of Victoria and the Art Gallery of New South Wales.
Where: Romanian Cultural Institute, 1 Belgrave Square, London SW1X 8PH
When: Tuesday 3 February 2015, 7 pm (doors open at 6.30 pm)
Free entry, but please reserve your seat at Eventbrite.