Fashion exhibition: Madame de … by Dinu Bodiciu
14/10/2011 @ Institutul Cultural Român Londra, 1 Belgrave Square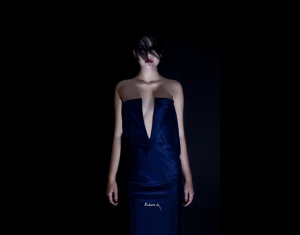 After Lady Gaga wore his famous red suit before the taping of The Tonight Show with Jay Leno, Romanian designer Dinu Bodiciu reveals the unexpected and secret beauty of Madame de… in a spectacular one-off exhibition of his Spring-Summer 2012 collection.
"Madame de… is one of the most intriguing characters I have ever met."
"I wonder if she has any friends at all".
"I guess she never likes to be taken by surprise, yet she likes to surprise…"
Bodiciu's Spring-Summer 2012 collection challenges conventional notions of spring-summer designs in terms of shape and colour, so expect nothing but rumours and the best inspiration for 2012.
Dinu Bodiciu lives and works in London. In February 2011, he completed his Master degree in Fashion Design and Technology at London College of Fashion. His FW2011 collection shown at the Victoria & Albert Museum drew media attention with its shapes, textures and styling. His work has been showcased in established fashion magazines such as Dazed & Confuzed, Vogue Japan, Vision China, Elle Romania, l'Officiel Ukraine.
Photos:
Model: Olivia-Fayne Lamb, MUA and Hair: Eimear Sweeney, Stylist: Dami Akinnaike, Photo: Pearly.
Model: Leontine / First Model Management London, Hair and Make-up: Kayoko Kishi, Photo: Christopher Agius Burke.
When: Friday 14 October, 6.30 – 9 pm
Where: Romanian Cultural Institute, 1 Belgrave Square, London SW1X 8PH.
Admission free.