Live streaming: Gala recital with mezzo-soprano Ruxandra Donose on the National Day of Romania
05/12/2012 @ Romanian Cultural Institute, 1 Belgrave Square, London, SW1X8PH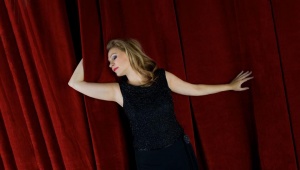 We are thrilled to present the celebrated Romanian mezzo-soprano Ruxandra Donose, with an outstanding gala recital on the occasion of the National Day of Romania. The programme includes great operatic arias and songs by George Enescu and Nicolae Bretan.
The concert is organised in partnership with the Romanian Embassy in the UK and is part of the Enescu Concerts Series, jointly organized by the Romanian Cultural Institute in London and the Enescu Society.
We are glad to announce that Ruxandra Donose's recital will be live-streamed online at 19.15 at the following address: http://new.livestream.com/accounts/2161934/gala-recital
Highly-praised for the complexity of her artistic personality, Ruxandra Donose is one of the most renowned mezzo-sopranos of the younger generation. Born in Bucharest, in a family of musicians, Ruxandra Donose appeared on the concert stage as early as her childhood, as a pianist. A graduate of the Music University of Bucharest (the class of Georgeta Stoleriu), she also studied in Vienna with Carol Blaickner-Mayo. She has been awarded a great number of national and international prizes being among others, laureate of the International Competition of Munich (1990) and of Washington (1991).
Soloist of the Opera Houses of Constanta (1989-1991), Basel (1991-1992) and Vienna (1992-1998), Ruxandra Donose has carried on at the same time a very rich concert activity throughout the world, acquiring an impressive artistic record. In November and December this year, she plays Carmen by G. Bizet at The Coliseum with the prestigious English National Opera.
Pianist Sergiu Tuhutziu will accompany Ruxandra Donose. Born in 1983 in Romania, Tuhutziu studied at the National University of Music in Bucharest, the class of Steluta Radu, and received Master's degrees from the Music Universities in Stuttgart and Cluj-Napoca, Romania. In 2011, receiving a bursary for London Masterclasses, he moved to London and had the great opportunity to work with Prof. Norma Fisher. He is now studying the "Artist Diploma" post-graduate programme at Royal College of Music in London. He has given recitals on the main stages in Romania, but also in Russia, Austria, France, Germany, Switzerland, Italy, Canada and the UK.
When: Wed 5 Dec 2012, 7pm;
Where: Romanian Cultural Institute, London
Admission is free, but places are limited. Early booking is well recommended.
Please reserve your seats at T: 020 7752 0134, E: office@icr-london.co.uk