Famous Madrigal Choir at the British Museum
24/04/2018 @ British Museum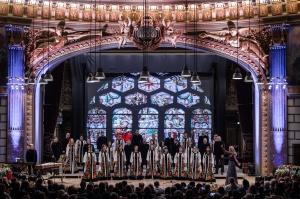 We are proud to support the participation of world-renowned Madrigal Choir, Romania's most famous vocal ensemble, at a new European music festival hosted by the British Museum between 16-29 April. The choir will present a programme of Byzantine liturgical chant complemented with 16th and 17th centuries works by Byrd, Dowland, Morley, Bennet, Weelkes, Pilkington, Lassus, Monteverdi, Widmann, Rossi, Costeley and Hassler.
Romania's National Chamber Choir Madrigal – Marin Constantin is the most famous Romanian choir. It was founded in 1963 at the National College of Music in Bucharest and its name derives from the 'madrigal', a form of vocal chamber music. Under its founder and long-standing principal conductor Marin Constantin (1925–2011), the ensemble acquired a wide repertoire covering everything from Byzantine psalms to world music and performed on the greatest stages in the world. The choir has received numerous prizes at home and abroad and has made over 40 recordings, some featuring great names like Angela Gheorghiu.
The Festival Europe and the world: a symphony of cultures takes place between 16-29 April and brings together diverse musical traditions in the extraordinary setting of the British Museum's galleries, surrounded by objects in the collection. The festival celebrates and questions Europe's cultural interactions with the world through a range of bold and diverse music performances and in a series of panel discussions, programmed by Artistic Director Daniel Kühnel.
The festival is organised by the British Museum and the Staatliche Kunstsammlungen Dresden and made possible by the Federal Foreign Office of the Federal Republic of Germany.
When: 24 April, 15.00-17.00
Where: Great Court, British Museum, London
Free entry.