Fairytale Images and Books
18/04 - 18/05/2012 @ Romanian Cultural Institute London, 1 Belgrave Square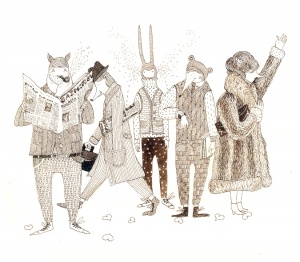 Opening: Wednesday 18 April, 6.30 - 9.30pm
Join us for celebrating Romania's presence at the London Book Fair, with a special exhibition of book illustrations created by the Romanian Illustrators' Club, which reaches its 7-year anniversary since they started to concoct "images that tell stories" – as was the title of their first exhibition in Bucharest in 2005.
"The Club has over 50 members, but it is not an institution; at the heart of the Club there are artists that enjoy talking, drinking tea and working together" – says Stela Lie, the coordinator of the Club.
At the beginning, the Club's exhibitions presented mainly works of art, most of them by professionals prepared to become, occasionally, illustrators. After various collaborations with ICR, CreArt, AER- Bookfest, ARCUB and books printed and edited by themselves, like fanzines, they launched Bookataria de texte şi imagini – a book for which the artists invited 39 well-known authors to write new texts that they illustrated with an exuberant creativity.
The exhibition Fairytale Images and Books, conceived by Stela Lie and Irina Dobrescu, presents for the first time almost everything the Club has created in seven years, each artist with his/her own books, plus Bookataria 1: fantastic landscapes, out- of-this-world animals, medieval and digital fairytales characters, sumptuous ballrooms, crinolines and harlequins, delicious sweets from grandmother's cupboard. An impressive harvest of fresh texts and images that you must not miss!
The exhibition continues until 18 May, Mon - Fri 10am - 5pm.
Free entrance.