Exuberant ConTempo's Ireland-UK tour debuts in Dublin
31 - 28/03/2013 @ Hugh Lane Gallery, Charlemont House, Parnell Square North, Dublin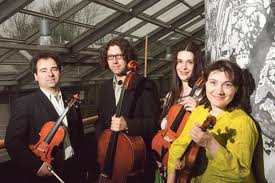 As a preface to their much-awaited London tour, supported by the Romanian Cultural Institute, the multi award-winning ConTempo String Quartet plays Enescu's expressive String quartet no 2 at the prestigious Hugh Lane Gallery in Dublin, with the support of the Romanian Embassy in Dublin. The programme also includes Brahms' Piano Quintet, a timeless piece that features high in the ensemble's varied repertoire. Contempo is joined by pianist Ishay Shaer, one of the leading young Israeli pianists.

To marry musical performance and academic research, the event will be opened with the presentation of an intriguing new publication, Enescu: A Surveilled Exile? by Ladislau Csendes, which sheds new light on the great composer's life in exile, under constant threat from the feared Securitate, communist Romania's secret police.
Consistently cited for their 'exuberance and sensitivity' with their playing praised as 'exceptional' (The Strand), the ConTempo String Quartet have confirmed their place among the finest musicians in the world today. After graduating from the National University of Music in Bucharest and making their debut in 1995, Bogdan Sofei (1st violin), Ingrid Nicola (2nd violin), Andreea Banciu (viola) & Adrian Mantu (cello) gained international recognition with a record of 14 prestigious awards, with more than 1200 concerts in front of great audiences such us Pope John Paul II, Nelson Mandela, Prince Charles, Nobel Prize winners and Hollywood stars and on stages such as Carnegie Hall in New York, Wigmore Hall in London, Théâtre du Châtelet in Paris, and The Philharmonic Hall in Berlin.
Their repertoire encompasses the Classical and Romantic eras (Haydn, Mozart, Beethoven, Brahms, Schubert, Schumann, Dvořák, Puccini), as well as the 20th century (Elgar, Zemlinsky, Eisler, Bartok, Hindemith, Enescu, Shostakovich, Ligeti). Their pop repertoire includes South American tangos, songs of the Beatles, rock and jazz, while their collaborations with traditional musicians include original music by Maírtín O'Connor and folk music from Romania and Ireland, in arrangements by Garry O' Bríain.
When: Sunday, 31 March, 12 o'clock
Where: Hugh Lane Gallery,

Charlemont House, Parnell Square North

, Dublin
This lunchtime concert is free and no ticket is required