Exuberant ConTempo's Ireland-UK tour continues with three London concerts
04 - 07/04/2013 @ Various venues in London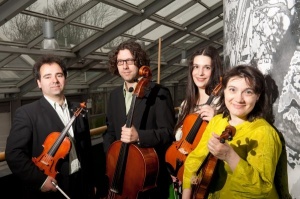 The ConTempo Quartet much-awaited London tour, supported by the Romanian Cultural Institute, continues, after Dublin, with three London concerts. The first one will take place in 1 Belgrave Square on 4 April within our well-established Enescu Concerts Series and will present Enescu's challenging String quartet No 1 and the Piano Quintet, Op. 34 by Brahms. The ConTempo Quartet are joined by pianist Ishay Shaer, one of the leading young Israeli pianists. To marry musical performance and academic research, the event will be opened with the presentation, by the author, Ladislau Csendes, of an intriguing new publication, Enescu: A Surveilled Exile? which sheds new light on the great composer's life in exile, under constant threat from the feared Securitate, communist Romania's secret police.
The second concert is organised at St Swithun's Church on 6 April, featuring works by Paul Constantinescu, Joseph Haydn, George Enescu and Felix Mendelssohn-Bartholdy and the last concert of their London tour will be presented at the Mill Hill Music Club on 7 April with a programme also including Constantinescu, Haydn, Brahms and Mendelssohn-Bartholdy.
Consistently cited for their 'exuberance and sensitivity' with their playing praised as 'exceptional' (The Strand), the ConTempo String Quartet have confirmed their place among the finest musicians in the world today. After graduating from the National University of Music in Bucharest and making their debut in 1995, Bogdan Sofei (1st violin), Ingrid Nicola (2nd violin), Andreea Banciu (viola) & Adrian Mantu (cello) gained international recognition with a record of 14 prestigious awards, with more than 1200 concerts in front of great audiences such us Pope John Paul II, Nelson Mandela, Prince Charles, Nobel Prize winners and Hollywood stars and on stages such as Carnegie Hall in New York, Wigmore Hall in London, Théâtre du Châtelet in Paris, and The Philharmonic Hall in Berlin.
Their repertoire encompasses the Classical and Romantic eras (Haydn, Mozart, Beethoven, Brahms, Schubert, Schumann, Dvořák, Puccini), as well as the 20th century (Elgar, Zemlinsky, Eisler, Bartok, Hindemith, Enescu, Shostakovich, Ligeti). Their pop repertoire includes South American tangos, songs of the Beatles, rock and jazz, while their collaborations with traditional musicians include original music by Maírtín O'Connor and folk music from Romania and Ireland, in arrangements by Garry O' Bríain.
Thu 4 April, 7pm, Romanian Cultural Institute
Admission is free, but places are limited. Early booking is well recommended.
Please reserve your seats at T: 020 7752 0134, E: office@icr-london.co.uk
Sat 6 April, 7.30pm, St Swithun's Church, Grovelands Road, Purely, CR84LB
Tickets £15, £10 (concessions), book at 020 8660 3770
Sun 7 April, Mill Hill Music Club, The Hall, The Henrietta Barnett School, Central Square, Hampstead Garden Suburb, London, NW11 7BN
Tickets £15, book HERE