Exuberant Andrei Gologan at St Martin-in-the-Fields
23/01/2018 @ St Martin-in-the-Fields, Trafalgar Square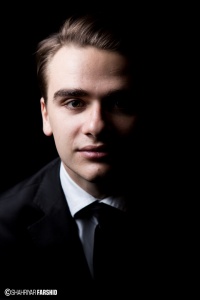 Precocious pianist Andrei Gologan, a young performer of striking ability, opens our eightieth year of Romanian concerts at St Martin-in-the-Fields with an irresistible programme that includes works by Chopin, Silvestri and Debussy.
Programme:
F. Chopin - Barcarolle, Op. 60
- 3 Waltzes, Op. 64
C. Silvestri - Jeux d'enfants
C. Debussy - La danse de Puck
- Les sons et les parfums tournent dans l'air du soir
- Les collines d'Anacapri
- La fille aux cheveux de lin
- L'isle joyeuse
Andrei Gologan, born in 1992, started his piano lessons at the age of five and half a year later won his first piano competition by performing works by Czerny, Beethoven, and Schumann. At the age of 14, he made his orchestral debut playing Haydn's piano concerto in D major. He performed Schostakovitch's 1st piano concert at the Salzburg Chamber Music Festival alongside Sándor Végh Chamber Orchestra and Vienna Philharmonic trumpeter, Hans Gansch. A graduate of Mozarteum University in Salzburg, Andrei is the winner of some notable competitions such as 'V.Horowitz Competition' in Kiev, 'Piano Campus Competition' in Paris, 'Sigismund Thalberg Competition' in Naples and 'European Lions Club Competition' in Istanbul. Together with his partner, Roxana Circiu, he opened the 2017 Salzburger Mozart Matineen.
When: Thursday, 23 January, 1pm
Where: St Martin-in-the-Fields, Trafalgar Square, London
This lunchtime concert is free and no ticket is required.