Exquisite Romanian Art Books at Tate Modern
18 - 20/05/2018 @ Tate Modern – Turbine Hall, Bankside, London SE1 9TG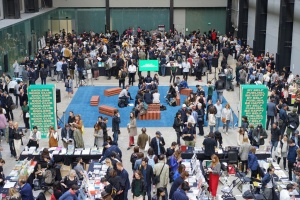 We are proud to support, for the third year in a row, Romania's participation at Offprint London (18-20 May), one of Britain's largest art publishing fairs, which brings together at Tate Modern artists and publishers from all over the globe. The Romanian display of art books, curated by art historian Alina Șerban, will feature a fine selection of books from P+4 Publications, presenting some of Romania's best contemporary art and architecture.
The publications included in the exhibition are 'The Book of Notebooks' by Dan Perjovschi, 'Of Puppets and Humans' by Ciprian Mureșan, 'The Factory of Facts and Other (Unspoken) Stories', 'Enchanting Views. Romanian Black Sea Tourism Planning and Architecture of the 1960s and '70s' and 'Evicting the Ghost. Architectures of Survival', among others.
P+4 Publications is a Bucharest based independent publishing programme dedicated exclusively to the promotion of Romanian contemporary art and architecture, showing special concern for the cross-cutting relationships between the artistic practice, academic research and experiment in design. Initiated under the umbrella of P+4 Association by art historian Alina Şerban, the publishing programme is non-profit, self-managed, and aims to explore the printed medium as a space for research into and reflection upon the themes and ideas previously tackled by artists and architects in their practice.
Offprint is a traveling art publishing fair featuring discerning projects across a wide range of media. Now in its second year, the London fair includes books, zines, vinyls, posters, prints, websites, magazines, and blogs from over 140 participants in the fields of contemporary art, graphic design, literature, poetry, philosophy, and experimental music. In collaboration with Tate Modern and curator Simon Baker, Offprint London 2015 dedicated a special space for photobooks, inviting 70 independent photobook publishers from all over the world. Acknowledging a dissolving effect of traditional sites and media (museums / books / schools) and their respective activities (curating / publishing / teaching), Offprint showcases an alliance between printed strategies and digital cultures within the art world, presenting concrete examples of the contemporary dissemination of artistic practices.
When: Friday 18 May 2018: 6pm - 10pm / Saturday 19 May: 12pm - 8pm / Sunday 20 May: 12pm - 6pm
Admission: free
Where: Tate Modern – Turbine Hall, Bankside, London SE1 9TG