Expoziție: Romanian Fashion Exposed
21/02/2019 @ Romanian Cultural Institute, 1 Belgrave Square, London SW1X8PH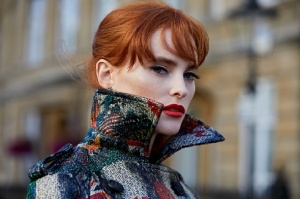 ICR Londra organizează, în perioada 15 februarie - 8 martie 2019, expoziţia de design vestimentar "Romanian Fashion Exposed", în cadrul căreia vor fi prezentate creaţiile designerului român Gabriela Popa - unul dintre artiștii români de succes stabiliți în capitala britanică, fondatoarea brandului de lux Gabriela Rose -, alături de ținute semnate de Thais Coman și Oana Stroe, cele două creatoare din spatele brandului THAÏS & STRÖE. Gabriela Rose este un brand deja consacrat pe piața britanică, fiind recunoscut pentru utilizarea unică a elementelor de căptușire a gulerelor și a manșetelor, precum și pentru finețea cusăturilor. Brand-ul românesc THAÏS & STRÖE se remarcă prin designul minimalist ready-to-wear. Expoziția este găzduită de Galeria Brâncuși a ICR Londra, iar evenimentul este organizat în marja celebrului festival London Fashion Week.
Gabriela Rose is a well-established luxury brand recognised for ingenious twists of classic designs and seamless finishing. Launched in 2011 by designer Gabriela Popa, it is characterised by combining quintessentially English, carefully tailored tweed fabrics with cleverly inserted brightly printed jacquard linings. Having also invented the ingenious velvet Rose Wrap, her take on fashion likewise reflects a high regard for carefully handmade garments, innovative techniques and personal artistic touches, redefining classic designs with spectacular results.
THAÏS & STRÖE is an apparel brand based in Bucharest. The founders, Thais Coman and Oana Stroe, are two fashion designers who have had their formation in Bucharest and Bologna, at Accademia di Belle Arti. With minimalist and clean aesthetics, the brand creates chic and comfortable ready to wear garments for the modern woman and man. The garments are created with personalised fabrics that are carefully selected and manufactured. The two designers believe that, more than emphasizing the shape of a body, clothes are meant to highlight a personality.
When: 15 February – 8 March 2019, Mon – Fri 10.00-17.00
Private view: 21 February, 19.00 (in the presence of designer Gabriela Popa). Free entry. Please confirm your attendance on EVENTBRITE.
Where: Romanian Cultural Institute, 1 Belgrave Square, London SW1X8PH