Expoziția 'The Need for Belonging?' de Anca Stefanescu
15/01 - 07/02/2020 @ Brâncuși Gallery, RCI London, 1 Belgrave Square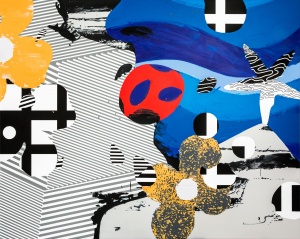 nstitutul Cultural Român din Londra este încântat să deschidă programul de arte vizuale 2020 în galeria Brâncuși cu expoziția"The Need for Belonging?" aparținând artistei Anca Ștefănescu stabilită în Oxford.
Născută în 1974, Anca Ștefănescu a început să studieze pictura la vârstă de 12 ani. Din acel moment, arta a devenit pasiunea ei. În 1999 ea a absolvit Universitatea Națională de Arte București cu un Master în Fine Arts, în care s-a focusat asupra picturii. Anca a lucrat și în capacitate de colorist digital intermediar și designer grafic pentru companii majore de producție și post-producție din România.
Anca Ștefănescu caută mereu moduri noi de a exprima fericirea și dragostea. Lucrările ei reflectă intenția de a capta frumusețea rafinată a formelor biologice și geologice, descoperind astfel reala natură umană și esenta conștiinței. Artista are o măiestrie impresionantă asupra teoriei culorii cât și un simț extraordinar al ritumului și al elementelor compoziționale. În același timp, fiecare pictură reflectă într-un mod sofisticat, sensibil și creativ un simț de unitate.
Expoziții selectate și bieniale
2019 - The Other Art Fair London, Art Fair by Saatchi Art, London, Contemporary Painting Exhibition, The Brick Lane Gallery, London, ALL Women Art Competition and Exhibition, Contemporary Art Gallery Online, Annapolis, MD, USA, 2nd Annual Women Artists Art Exhibition, Fusion Art Gallery, Palm Springs, CA, USA
2018 - The 2018 Open / No theme Art Exhibition, Contemporary Art Gallery Online, Annapolis, MD, USA, Biennale Larnaca, Cyprus, Sunny Art Prize Exhibition, London, NAG Art Gallery, Contemporary Exhibition, San Lorenzo Church, Florence, Italy, Amsterdam Whitney Gallery, New York City, NY, USA, World Art Dubai, Contemporary Art Fair, Dubai, United Arab Emirates, Jorge Jurado Gallery, Art Show, Bogota, Columbia, ART Innsbruck, International Art Fair, Innsbruck, Austria
2017 - THE ROOM Gallery, Contemporary Art Space, Venice, Italy, Open / No theme, Contemporary Art Gallery Online, Annapolis, MD, USA, Patterns Art Exhibition, Light Space & Time Online Art Gallery, Jupiter, FL, USA, Blue Art Show, Colors of Humanity Art Gallery, Everett, PA, USA, Spectrum/Red Dot Miami, Contemporary Art Show, Miami, FL, USA, RomArt Biennial, The International Biennial of Art and Culture in Rome, Italy, Florence Biennale, Florence, Italy.
Lista întreagă se găsește la https://www.ancastefanescu.com/artist-bio
Când: Miercuri 15 ianuarie 2020 (ușile se deschid la 18:30)
Vizualizare Privată a Expoziției și Recepție: 19:00
Program de vizitare: 16 ianuarie-7 februarie 2020. Luni-Vineri 10.00-17.00
Unde: Institutul Cultural Român, Galeria Brâncuși, 1 Belgrave Square, Londra
Intrare Gratuită. Va rugăm registrati-va în avans pe Eventribe.