European Musicians Play Enescu's 'Octet' To Celebrate Romania's Presidency of the EU Council
15/01/2019 @ Romanian Cultural Institute, 1 Belgrave Square, SW1X8PH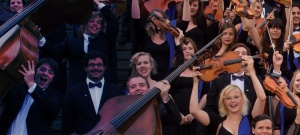 Described by The Irish Times as "massive and intimate, almost orchestral at one extreme, and like a delicate, individual reverie at the other", George Enescu's 'Octet', completed when the revered composer was but 19 years of age, marks a double occasion at 1 Belgrave Square: the opening of the Romanian Presidency of the Council of the European Union and Romania's National Culture Day, celebrated every year on 15 January.
More than a century after its premiere in Paris, eight of the European Union Youth Orchestra's accomplished musicians will perform a stirring rendition of the work for the London stage: Emily Davis (UK) – violin, Rosa Hartley (UK) – violin, Paula Sanz Alasa (Spain) – violin, Elias Lassfolk (Finland) – violin, Theo Andreescu (Romania) – viola, Irénée Krumenacker (France) – viola, Krystyna Wiśniewska (Poland) – cello and Julia Oberndorfer (Austria) – cello.
Introductory remarks by HE Dan Mihalache, the Ambassador of Romania to the Court of St James's.
The first large-scale work of Enescu's maturity was his Octet for Strings in C Major, Op. 7, of 1900. This was a stunningly ambitious project for the 19-year-old composer, who described his compositional process as follows: "I was crushing myself with the effort of keeping aloft a piece of music in four sections, of such length that each one of them seemed about to fall apart at any moment. No engineer putting his first suspension bridge across a river can have agonized more than I did as I gradually filled my manuscript paper with notes." Since its premiere ten years later, it has been recognized as one of the true hidden gems of 20th-century chamber music."
The European Union Youth Orchestra (EUYO) is one of the world's pre-eminent symphony orchestras. Described by the Guardian as having "gripping, exhilaratingly good orchestral playing, surging with energy, laser-sharp focus and collective daring... [with] a technical prowess that is downright terrifying", it has provided an exceptional bridge between music colleges and the professional music world for generations of Europe's finest musicians since its foundation in 1976. The EUYO's 3,000 alumni have all come through the Orchestra's rigorous, annual audition process conducted in all EU member states, and many are now notable conductors, soloists, teachers, and instrumentalists working with the major orchestras of Europe and the world. A truly global brand, the EUYO has performed in most of the world's major concert halls and festivals, including the BBC Proms at London's Royal Albert Hall, New York's Carnegie Hall and the Vienna Musikverein. From Amsterdam to Abu Dhabi, Moscow to Mumbai, Seoul to São Paulo, the Orchestra has appeared in many hundreds of venues across five Continents. During 2018 the Orchestra has received two awards - the European Orchestra Award in Dresden from the European Culture Awards TAURUS 2018, and a Cultural Diplomat of the Year Award at the Abu Dhabi Culture Summit. In celebration of the 2018 European Year of Cultural Heritage, EUYO has performed in fourteen countries throughout Europe, South America, the Middle East and Asia, with residencies in Bolzano, Ferrara, Grafenegg, Dubai and Shanghai. Founded by Joy and Lionel Bryer in 1976, the EUYO has been a Cultural Ambassador for the European Union for more than forty years.
When: Tuesday 15 January 2019, 18.30. By invitation only.
Where: Romanian Cultural Institute, 1 Belgrave Square, London SW1X8PH