'EUROPALIA Romania' in London: Ada Milea and The Balanescu Quartet
30/10/2019 @ Rich Mix, London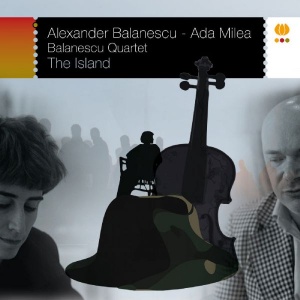 The 'EUROPALIA Romania' festival in London opens with one-of-a-kind singer Ada Milea who joins world-renowned Balanescu Quartet to perform 'The Island'. The concept is based on the work of surrealist Gellu Naum and inspired by Robinson Crusoe, fortuitously coinciding with the 300th anniversary of the ever-fascinating novel. Exploring themes of love, loneliness and the healing power of fantasy as Crusoe meets mermaids, pirates, and aggressive grannies, 'The Island', performed in English, is a witty, inspirational and mind-expanding journey.
"Ada Milea is Romania's own best-kept secret… touching, funny – both innocent and knowing – and like nothing else." Robin Ashenden – Editor at Central and Eastern European London Review
Ada Milea graduated from The Dramatic Arts University of Targu Mures, Romania. She was an actress between 1997 and 1999 at the National Theatre of Targu Mures, after which time she decided to be an independent artist, rapidly becoming a cult figure. Throughout time, she had initiated projects in which the actors and musicians became musical characters, experimenting with the links between theatrical and musical fields. As a singer, Ada Milea had given many concerts, not only throughout Romania, but also in United Kingdom, Hungary, Belgium, Germany, Italy, Croatia, Israel, Spain, U.S.A., Austria and France.
Since its formation in 1987, the Balanescu Quartet has acquired a reputation as one of the leading contemporary music groups in the world today. Its guiding force has been the Romanian born violinist and composer Alexander Balanescu, who has led the Quartet across musical frontiers into uncharted territory. This search to push the limits of the string quartet, has revealed an ensemble with a sensibility nearer to a band rather than a classical group, and reflects Balanescu's passionate belief in the intercommunication and fluidity between different musical fields. Having collaborated with composers such as Michael Nyman and Gavin Bryars, "Lounge Lizard" John Lurie, and developed projects inspired by Romanian traditional music as well as Kraftwerk, the Balanescu Quartet has fashioned a writing and performing style that sets them apart from any other string quartet.
When: Wednesday 30 October; Doors open at 19.30, music starts at 20.00;
Where: Rich Mix, 5-7 Bethnal Green Road, London E1 6LS;
Tickets: £12.50 - £20 (plus booking fee) from www.kazum.co.uk or richmix.org.uk
This concert is part of 'EUROPALIA Arts Festival Romania' in London. Click here for the full programme. The concerts are produced by Kazum in partnership with EUROPALIA Arts Festival and the Romanian Cultural Institute.