Prize-Winning Claudiu Florian Joins the Euro Stars
28/09/2016 @ Waterstones Piccadilly, London W1J9HD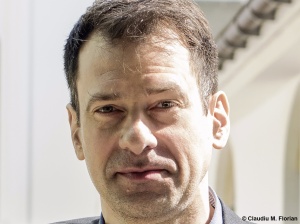 Romanian novelist and diplomat Claudiu Florian, this year's revelation at the European Union Literature Prize, reflects on arts and international politics in a troubled time in the company of British author and translator Tim Parks, French novelist Antoine Laurain and British writer and illustrator Joanna Walsh. The event is part of the *EURO STARS* series organised by the European Literature Network and chaired by its Director - journalist Rosie Goldsmith.
Claudiu M. Florian was born in 1969 in Rupea, near Braşov, in central Romania. He received a degree in German Studies at Bucharest University in 1994, an MA in Humanistic Interdisciplinary Studies in German at Bucharest University in 1996, and another Master's degree in Contemporary History at Bielefeld University in Germany. From 2002, he joined Romania's Ministry of Foreign Affairs and functioned as Cultural and Press Attaché at the Romanian Embassy in Berlin between 2004-2009. Between 2010-2013 he held a similar role at the Romanian Embassy in Bern, Switzerland. In 2014 he joined the Romanian Cultural Institute in Berlin, whose acting director was appointed at the beginning of 2016. He is the recipient of this year's European Union Literature Prize for the novel 'Vârstele jocului. Strada Cetății' ('The Ages of the Game. Citadel Street') published by Cartea Românească.
Born in Manchester in 1954, Tim Parks grew up in London and studied at Cambridge and Harvard. In 1981 he moved to Italy where he has lived ever since. He has written fourteen novels including 'Europa' (shortlisted for the Booker Prize) and others that have been published in half a dozen countries. During the nineties he wrote two, personal non-fiction accounts of life in northern Italy, 'Italian Neighbours' and 'An Italian Education', books that won acclaim and popularity for their anthropological wryness. During his years in Italy, Tim has translated works by Moravia, Calvino, Calasso, Machiavelli and Leopardi.
Antoine Laurain was born in Paris and is a journalist, antiques collector and the author of five novels. 'The President's Hat', a charming fable set in the Mitterrand years, was awarded the Prix Landerneau Découvertes and the Prix Relay in 2012 and is published in English by Gallic. It was a Waterstones Book Club book and ABA Indies Introduce pick in 2013. Antoine was chosen to represent France at European Literature Night 2014.
Joanna Walsh's books include 'Hotel', 'Vertigo', and 'Fractals'. Her writing has been published by The Dalkey Archive (Best European Fiction 2015), Granta, Salt (Best British Short Stories, 2014 and 2015), The Stinging Fly, Gorse, and others. She reviews for The Guardian, The New Statesman, and The National. She is fiction editor at 3:AM Magazine, and runs @read_women, described by the New York Times as "a rallying cry for equal treatment for women writers".
*EURO STARS* is a new way of presenting European literature in English in public. It is a platform that presents great fiction, great translation, great performances and great debates about writing and the culture and continent it comes from. *EURO STARS* is brought by the European Literature Network, with funding from Creative Europe and Arts Council England. It is supported by ELIT Literature House Europe & the EUPL European Union Prize for Literature.
When: Wednesday 28 September, 7 – 8:30pm
Where: Waterstones Piccadilly, London W1J9HD
Tickets: £5, available in store, by telephone: 020 7851 2400 or by email: piccadilly@waterstones.com.