EUNIC Ireland at the Movies
06/11/2017 - 14/11/2014 @ Dublin & Cork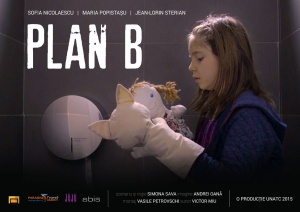 With the support of the Romanian Cultural Institute and the Embassy of Romania in Dublin, newcomer Simona Sava's 'Plan B' will be presented within 'Short Shorts from Europe', a showcase of continental cinema set up by EUNIC Ireland, the association of foreign cultural institutes from European Union countries. The screenings take place at the Irish Film Institute (in the presence of the director) and a week later at the Cork Film Festival.

PLAN B By Simona Sava
Romania – 2015 – 10 min – English subtitles
A married couple and their 7-year-old girl return from a ski trip. The parents are quite tense and it's not the first time when Miruna hears them fighting. In her sweet innocence, she tries to resolve things, but the rules of her game don't work in real life.
Simona Sava spent two years studying a Master's Degree in Screenwriting in Bucharest. She wrote and produced a short in her first year, and went on to direct in her second year.
Many thanks to NexT Cultural Society - NexT International Film Festival for helping with the selection.

The EUNIC Ireland cluster is composed of the Alliance Française, the Austrian Embassy, the British Council, Culture Ireland, the Goethe-Institut, the Instituto Cervantes / AECID, the Istituto Italiano di Cultura, the Embassy of Bul­garia, the Embassy of Greece and the Embassy of Roma­nia / Romanian Cul­tural Institute.
Full programme: here.
When & Where:

6 November 2017, 6.30pm
Irish Film Institute
6 Eustace Street, Dublin 2
Admission free, booking requested.
14 November 2017, 6.00pm
Cork Film Festival
Gate Cinema, North Main St, Cork
Admission free, booking requested.