Eugen Chirovici & Nicu Alifantis: An Evening of Chart-topping Fiction and Music
05/12/2018 @ Romanian Cultural Institute, 1 Belgrave Square, SW1X8PH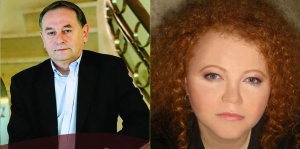 Internationally bestselling author Eugen Chirovici and legendary folk musician Nicu Alifantis invite you to an evening of music and gripping conversations in Belgravia. The acclaimed author will be joined by writer, editor and arts critic Lucy Popescu, in a discussion about his page-turning thrillers 'The Book of Mirrors' (Century, 2017), one of the most translated literary works worldwide, and newly released 'Bad Blood' (Serpent's Tail, 2018). The evening will continue with a recital in the company of Nicu Alifantis, Romania's beloved folk musician, who on this occasion will be launching his latest CD & book set dedicated to the Great Union Centenary, entitled 'The Country Where I Come From'.
The event is part of the 'Writers about Romania in the Centenary Year' project, funded by the Ministry of Culture and National Identity. Organised by the Freedom Smile Association with the support of the Romanian Cultural Institute in London.
Eugen Chirovici was born to a family of Romanian, Hungarian, and German descent and grew up in Southern Transylvania, Romania. He graduated from Bucharest's Academy of Economic Studies in 1988 and three years later joined the press as a financial reporter for The National Courier, a daily newspaper created immediately after the huge changes brought about by the Romanian Revolution against the communist regime. In the 1990s, he was a contributor to BBC Romania and Radio Free Europe, an adviser to the Prime Minister of Romania for a year in the early 2000s, and then an adviser to the Governor of the National Bank of Romania for another three years. As a writer, he published ten novels and five non-fiction books in Romania before moving to the UK in 2012, where he published two novels in English - 'The Book of Mirrors', a psychological thriller that aroused great interest around the world, being translated into thirty-nine languages, and 'Bad Blood, released in July this year. At present, Eugen Chirovici currently resides in Belgium.
Nicu Alifantis was born to a Macedonian-Greek family in Southern Romania. A vocalist composer, producer and poet, he graduated from the National University of Theatre and Film in Bucharest and later studied music with Adrian Enescu and Johnny Răducanu. He made his debut as a composer in 1973, when we wrote the music for Alexandr N. Ostrovski's play 'The Storm' ; as a vocalist in 1976, with the single 'Night Song'; and his literary debut in 1997, with the poetry volume 'Unopened letters'. Since 1973, he has held numerous concerts in Romania and abroad, performing solo or with other artists. He was featured alongside big names on the international music scene such as Donovan, Jerry Lee Lewis, The Platters, Angelo Branduardi, Toto Cutugno, Kylie Minogue, Dionne Warwick, Ricky Martin or Simple Minds. Throughout his extensive career, Alifantis wrote the music for 113 plays and 17 films, acted in 15 plays and starred in Dan Pița's 1979 film 'Poor Ioanide', and held 57 music and poetry recitals.
Lucy Popescu is a writer, editor and arts critic with a background in human rights. She worked with the English Centre of PEN, the international association of writers for over 20 years and was Director of its Writers in Prison Committee from 1991 to 2006. Lucy reviews books for various publications including The Independent, The Financial Times, The TLS, Literary Review, New Humanist and Huffington Post. She has a particular interest in literary fiction in translation and free expression. She is a member of the Authors' Club and on the judging panel for The Best First Novel Award. 'A Country of Refuge', an anthology of writing about asylum seekers compiled and edited by Lucy, is to be published in June 2016.
When: Wednesday 5 December 2018, 7pm
Where: Romanian Cultural Institute, 1 Belgrave Square, London SW1X8PH
PLEASE NOTE: the conversation between Eugen Chirovici and Lucy Popescu will be in English, while Nicu Alifantis will perform a medley of songs in Romanian.
Free entry. Please confirm your attendance on EVENTBRITE.