'ENGINES', Flavian Berar's Film, Screened at Piccadilly Circus, London and Simultaneously in Tokyo and Seoul
12/09/2021 @ Piccadilly Circus, London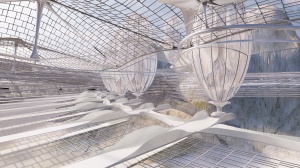 Responding to the theme of 'Communion', Flavian Berar's outstanding two-part video is addressing one of the most pressing current issues, the climate emergency and the need for self-salvation. Flavian is an artist, architectural designer trained at The Bartlett School of Architecture and a filmmaker whose work has been selected among the 30 artists of the CIRCA x Dazed Class of 2021. After receiving 2,000 applications, 700 submitted artworks and watching 30 hours of best-in-class film making CIRCA and Dazed announce finalists.
The screening will start on 12 September at 8:21 PM on the large screen at Piccadilly Circus and simultaneously in Seoul and Tokyo. If you are not in these locations, RCI London will screen Flavian Berar's film at 9 PM, on its Facebook page and YouTube channel, together with a short intro about his art practice with a focus on using film techniques in architectural design.
I grew up in a grey apartment block, embodying the past ideology of Ceaușescu's communist regime, living in a standardised and relatively small space. It's only been recently that I realised the influence it played on the type of architecture I would later aspire to practice, not by following it as an example but by contrast, attempting to dismantle and escape it with every opportunity that would arise. (…) 'Communion' is seen as the act of coming together under one system of belief in an attempt to reverse the damage that's been created, while a new posthuman culture is being born. The piece attempts to answer the questions - if Climate Change becomes religion, then what kind of form does its temple take and what is it made of?
Flavian Berar is an artist, architectural designer and filmmaker with a Diploma in Architecture from The University of Westminster and The Bartlett School of Architecture, UCL. He is one of the Circa x Dazed Class of 2021 Finalist, selected by an esteemed jury featuring some of the world's most important creative leaders across art, design, film, photography, music, fashion and culture. He has a Distinction in MArch Architecture and was nominated for RIBA President's Bronze Medal.
The screening in London will start at 8:21 PM on the large screen at Piccadilly Circus and will run once for 3 minutes in total.
The film will also be streamed in the following locations:
8:21 PM Seoul's Coex K-POP Square, South Korea (local time)
9:00 AM Tokyo's Yunika Vision, Shinjuku, Japan (local time)
To avoid missing the event, please arrive at Piccadilly Circus at 8 PM. Please bring headphones you can connect to your phone. Audio will be streamed via the website circa.art.