Enescu, (Un)Known
23/01/2015 @ Romanian Cultural Institute, 1 Belgrave Square, SW1X8PH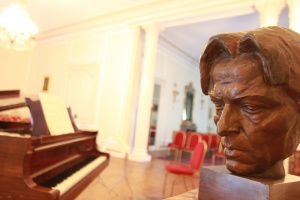 As part of the 'Enescu Month' in London, James Jolly, Editor-in-Chief at The Gramophone chairs a panel of distinguished Enescu specialists and aficionados, which discusses the great composer's outstanding musical legacy. Accompanied by rare pictures and historical footage, casting an unexpected light on the life and work of George Enescu.

Speakers: Sir Noel Malcolm – the leading English authority on Enescu, Oltea Şerban-Pârâu – music critic and musicologist, Cristina Andrei – Director of George Enescu National Museum, Oana Marinescu – Communication & PR Director at the Enescu International Festival in Bucharest, Dorian Branea – Director of the Romanian Cultural Institute in London.
The event also marks the opening of a photographic exhibition set up by the George Enescu National Museum in Bucharest, offering a glimpse into the great man's musical laboratory. The exhibition contains snapshots of Enescu's private and public life, as well as photographs of documents and manuscripts that belonged to the composer.
James Jolly is Editor-in-Chief of Gramophone magazine - often called the Bible of the classical music recording industry. He was editor of Gramophone from 1989 to 2005 and since then has been Editor-in-Chief. After four years of co-presenting BBC Radio 3's weekday morning programme 'Classical Collection', he has moved to Sunday mornings, with Rob Cowan as his fellow presenter.
Sir Noel Malcolm is a historian, philosopher and journalist, and the leading English authority on Enescu. From 1981 to 1988 he was a Fellow of Gonville and Caius College, Cambridge, and is now a Senior Research Fellow at All Souls College, Oxford. A frequent visitor to Romania (and a trustee of the Mihai Eminescu Trust, which gave support to dissidents during the Ceaușescu years), he was the first Westerner to study Enescu's manuscripts in the Enescu Museum in Bucharest after the museum had been closed down by the Communist government. His books include George Enescu: His Life and Music (1990).
Oltea Şerban-Pârâu is a music critic and musicologist and, since 2013, the Director of the Radio Romania Cultural Media Centre. Her career encompasses activity as a musical, artistic and press adviser to musical institutions and prestigious national and international festivals, as the editor of musical publications, and as a jury member for major national and international music competitions. Between 2005 and 2013 she was director of the Radio Romania Cultural station. Since 2009 she has been director of the Radio Romania Orchestras and Choirs.

Cristina Andrei is a graduate of the Department of Musicology of the National University of Music in Bucharest. She has been a curator since 1995 and, in 2012, was appointed Director of the George Enescu National Museum in Bucharest. Cristina Andrei has studied both archives and private collections and uncovered new documents, which have formed the basis of a series of exhibitions dedicated to the great Romanian musician.

Oana Marinescu is the Communication Director of the George Enescu Festival in Bucharest. From 2000 to 2004, she worked as a consultant in public communication and as a political and press officer with the British Embassy in Bucharest, covering Romania and Moldova. Between January 2005-February 2007, she was State Secretary and Romania's Government Spokesperson, after which, between March 2008 to July 2010, she took on the role of Director General for Public Diplomacy with Romania's Ministry of Foreign Affairs.
Photo credit: Cristian Alexa
When: 23 January, 7pm

Where: Romanian Cultural Institute in London, 1 Belgrave Square, SW1X 8PH

Admission is free, but places are limited. Please reserve your seat at Eventbrite.