Enescu's 'Romanian Rhapsody' at Cadogan Hall
17/12/2015 @ Cadogan Hall, 5 Sloane Terrace, London, SW1X 9DQ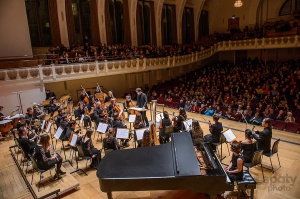 We are getting ready to welcome the festive winter season with a grand concert presented by the Philharmonic Chamber Orchestra of London, under the baton of Christopher Petrie, and world-renowned pianist Leslie Howard. The concert features George Enescu's impassioned 'Romanian Rhapsody No. 2', the composer's most popular work, as well as Sergei Rachmaninov's all time favourite 'Piano Concerto No. 2'. The evening will conclude with the London premiere of 'Symphony Carpatica' by Romanian-British composer Călin Humă.
Programme:
Sergei Rachmaninov: Piano Concerto No. 2
George Enescu: Romanian Rhapsody No. 2
Călin Humă: Symphony 'Carpatica' (London premiere)
Annual re-engagements on 5 continents and a 130-CD discography attest to the burgeoning popularity of Leslie Howard, established worldwide as a concert pianist, composer, conductor, chamber musician and scholar. A citizen both of Britain and Australia - born in Melbourne but resident in London since 1972 - Dr. Howard has earned extraordinary fame, having accomplished a feat unequalled by any solo artist in recording history - his 97-CD survey (for Hyperion) of the complete piano music of Franz Liszt. Accomplished within 14 years, it encompasses 300+ world premieres, including works prepared by Dr. Howard from Liszt's still unpublished manuscripts, and works unheard since Liszt's lifetime. This monumental project merited Dr. Howard's entry into the Guinness Book of World Records, 6 Grands Prix du Disque and - all presented to him by the President of Hungary - the Medal of St. Stephen, the Pro Cultura Hungarica award, and a mounted bronze cast of Liszt's hand. At an internationally telecast ceremony from Buckingham Palace, Her Majesty Queen Elizabeth II bestowed on Dr. Howard 'Member in the Order of Australia' for his "service to the arts as piano soloist, composer, musicologist and mentor to young musicians." Highlights of Dr. Howard's 2004-2005 concert season included an extensive Asian tour, with recitals and master classes throughout China, Japan, Korea, and Taiwan. His triumphant return to America included his highly anticipated recital at the 2005 International Keyboard Institute & Festival in Manhattan, for which he received accolades from the New York Times. Dr. Howard also realised his dream to conduct Liszt's monumental Oratorio Christus in a rare and much-praised revival in Leicester.
The Philharmonic Chamber Orchestra of London (PCOL) was founded in 2013 to provide London's leading young professionals with the forum to develop a new voice. PCOL musicians regularly perform within all the prevailing professional orchestras in London and the UK. This musical freshness and quality - along with an unique artistic approach - has gained for the orchestra a reputation for quality and innovation. Since 2013, PCOL has attracted soloists of international repute. Recent collaborators have included The Royal Opera's Jette Parker Young Artists Programme, Tom Poster, Remus Azoiței, Sarah-Jane Bradley, Nicholas Merryweather, Andrey Baranov and Leslie Howard.
When: Thursday, 17 December, 7:30 pm
Where: Cadogan Hall, 5 Sloane Terrace, London, SW1X 9DQ
Tickets: £30, £25, £20 and £15 at 020 7730 4500 or you book on-line HERE.
Our friends will get a 20% discount if, at checkout, they use the promotional code ROMANIA.