An Enescu Rarity Premieres in the UK
01/03/2012 @ 1 Belgrave Square, SW1X 8PH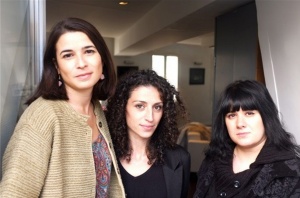 On the first day of spring, our atmospheric Enescu Concert Series brings to London one of the most outstanding and widely acclaimed contemporary trios. Praised by critics for their impeccable technique and interpretative subtlety, the "Brâncuşi" Piano Trio will surely offer a stirring performance of showpieces by Schostakovich, Enescu (the G minor Trio, dating from 1897, will be given its premiere UK performance) and Brahms.
Programme:
Schostakovich: Piano Trio No. 2, Op. 67
Enescu: Piano Trio No. 1 in G minor
Brahms: Piano Trio in B Major, Op. 8
The "Brâncuşi" Piano Trio (constituted in Paris by three musicians: Saténik Khourdoian – violin, Laura Buruiană – cello, Mara Dobrescu – piano) has recorded George Enescu's integral trios for violin, cello and piano with the French label ZigZag Outhere. As an homage celebrating 130 years since the composer's birth, the "Brâncuşi" Piano Trio brings these wonderful pieces of chamber music to the contemporary public's attention (G Minor Trio, A Minor Trio, Sérénade lointaine). As an avant-prèmiere to the French launch in March 2012, the young musicians wished to share these exquisite pages with an international audience. The pieces were not previously recorded and the G Minor Trio has not been played in over 100 years.
Born in an Armenian family (in Marseille, December 1983), Saténik Khourdoian studied violin with Jean Ter Merguerian at the local Conservatory. She took part in a large number of festivals, working with Christian Ivaldi, Trio Wanderer, Emmanuel Strosser, Pierre Amoyal, Vladimir Mendelssohn, Rudolph Koelman, Joseph Rissin, Miriam Fried, Ana Chumachenko, Zakhar Bron. Saténik won the Fourth Prize at the Long Thibaud Competition, as well as three special prizes (Audience Award, the SACEM and Gaby Pasquier). In February 2008, she received a second award at the YCA Auditions in New York. She has performed on some of the world's major stages: Concertgebouw d'Amsterdam, Jerusalem Music Center, Salle Pleyel, Cité de la Musique à Paris, Théâtre du Chatelet, Radio France, Grand-Théâtre de Provence, Wortham Center in Houston and Puccini Hall in Milan.
Laura Buruiană was born in Bucharest, Romania (1980). She started studying cello at the age of 10 at "George Enescu" Music Academy in Bucharest, with Constantin Gheorghiu and Dan Totan. After winning the First Prize in the Young Concert Artists International Competition in New York (2003), Laura Buruiană enjoyed worldwide recognition, being hailed as a "true virtuoso… the sounds stemming from her instrument are full of colours, of drama" (New York Times). She was the soloist of several major orchestras: Symphony Orchestra of Bari, Berlin Chamber Orchestra at the Rheingau Festival, "George Enescu" Philharmonic in Bucharest, Shanghai Philharmonic, Santander Orchestra and Symphony Orchestra of Ohio.
Mara Dobrescu graduated from the "George Enescu" Music Academy in Bucharest, the Conservatoire National Supérieur de Musique in Paris and the Geneva Conservatory. She had the opportunity to work with leading musical figures, such as Martha Argerich, Pierre-Laurent Aimard, Dominique Merlet, Jean-Claude Pennetier and Theodor Paraskivesco. She has received many awards and was supported by the Yamaha, Meyer, Tarazzi and Nadia et Lili Boulanger Foundations, while winning several prizes in many international competitions, such as the Sydney International Piano Competition, Maria Canals Competition, Epinal, Cantù, S. Rachmaninov. Recently, Mara performed in Europe, South America, Asia, Australia, as well as the United States. She also gave many chamber music concerts along with the best musicians of her generation. In France, she played in many important festivals, such as Festival d'Aix en Provence, Festival Chopin, Festival de Nohant, Festival d'Aix-en-Provence, Lille Piano(s) Festival, Festival ArsTerra.
The Enescu Concerts Series, jointly organized by the Romanian Cultural Institute in London and the Enescu Society, was established in 2007 under the Royal Patronage of HRH Princess Margareta of Romania. The concerts take place in the Institute's chamber music hall every first Thursday of each month, from October to June (July). The series has attracted a wide array of outstanding musicians and ensembles, who have managed to give some of the most memorable Enescu performances ever.
Every year since September 2011, the Romanian Cultural Institute awards the Enescu Scholarship to outstanding students of the Royal Academy of Music and Guildhall School of Music and Drama.
When: 1 March 2012, 7pm;
Where: Romanian Cultural Institute, London.
Admission is free, but places are limited. Early booking is well recommended.
Please reserve your seats at T: 020 7752 0134, E: office@icr-london.co.uk.