Enescu's 'Oedipe' at the Royal Festival Hall
23/09/2017 @ Southbank Centre, Royal Festival Hall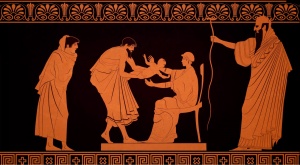 A year after the groundbreaking production at the Royal Opera House, Enescu's exhilarating masterpiece hailed as one of the great operatic achievements of the 20th century returns to London in a highly anticipated concert version offered by the London Philharmonic Orchestra under the baton of star conductor Vladimir Jurowski.
The marvellous cast include some of Romania's most acclaimed singers, Ruxandra Donose, Gabriela Iştoc and Marius Vlad Budoiu as well as two Romanian leading choirs: the Choir of the George Enescu Philharmonic and the Romanian Radio Children's Choir.
The event is preceded by a special soirée about 'Oedipe' and the music of Enescu with Maestro Vladimir Jurowski and Gabriela Iștoc at the RCI London at 1 Belgrave Square on September 21st, in the presence of Mrs Liliana Țuroiu, the President of the Romanian Cultural Institute.
4 and 5 star reviews for Enescu's Oedipe at Royal Festival Hall:
https://www.thetimes.co.uk/edition/times2/concert-review-oedipe-at-the-royal-festival-hall-se1-973f5cvzw
https://www.standard.co.uk/goingout/arts/oedipe-classical-review-a-very-complex-oedipus-a3642536.html
https://www.theguardian.com/music/2017/sep/24/oedipe-review-jurowski-lpo-enescu-opera-hero-oedipus-royal-festival-hall-london
https://bachtrack.com/review-enescu-oedipe-jurowski-lpo-london-september-2017
http://seenandheard-international.com/2017/09/vladimir-jurowski-the-lpo-and-a-fine-cast-immerse-the-audience-in-enescus-oedipe/
http://www.planethugill.com/2017/09/orchestra-to-fore-enescus-oedipe-from.html
https://www.ft.com/content/316381c6-a1d4-11e7-8d56-98a09be71849
http://www.independent.co.uk/arts-entertainment/classical/oedipe-royal-festival-hall-london-george-enescus-opera-has-a-bewildering-impact-a7966701.html
http://www.classicalsource.com/db_control/db_concert_review.php?id=14826
http://www.theartsdesk.com/opera/oedipe-lpo-jurowski-rfh-review-enescus-masterpiece-glorious-and-complete
The London Philharmonic Orchestra is one of the world's finest symphony orchestras, balancing a long and distinguished history with a reputation as one of the UK's most adventurous and forward-looking orchestras. The Orchestra was founded by Sir Thomas Beecham in 1932, and since then has been headed by many of the great names in the conducting world. The Orchestra's current Principal Conductor is Vladimir Jurowski, appointed in 2007. One of today's most sought-after and dynamic conductors, acclaimed worldwide for his incisive musicianship and adventurous artistic commitment, Vladimir Jurowski is also a regular guest with many of the world's leading orchestras in both Europe and North America. Since 2015 Vladimir Jurowski has been the Artistic Director of the George Enescu International Festival in Bucharest.
When: Saturday 23 September, 7pm
Where: Southbank Centre, Royal Festival Hall, Belvedere Rd, Lambeth, London SE1 8XX
Tickets: £ 65 - £ 10 - HERE