Enescu Concert Series Re-ignited by a Most Unexpected Trio
06/02/2014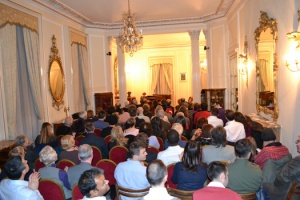 A flute, a piano and a guitar are a never before seen combination on the busiest chamber music scene of Belgravia. 2014 at the Enescu Concert Series kicks off with three musicians of rare panache and bravado: Ion Bogdan Ştefănescu, the absolute master of wind instruments, is joined by the remarkable virtuosos - guitarist Bogdan Mihǎilescu and pianist Diana Ionescu. The programme is a true encyclopaedia of musical emotions, from the hypnotic exactitude of Bach to the torrid bursts of Piazzolla.
Programme:
G.P. Telemann - "Partita in sol (G) major"
J.S. Bach - "Suite in la (C) minor BWV 997"
Fernando Carulli - "Nocturne for flute and guitar Op. 190"
George Enescu - "Cantabile and Presto for flute and piano"
Celso Machado - "Pacoca Choro", "Pe de Moleque Samba Choro", "Quebra Queixo Choro"
Astor Piazzolla - "Poema Valseado", "Revirado", "Fracanapa"
Ion Bogdan Ștefănescu discovered his passion for music early on, making his debut as a soloist in 1983, on the stage of the Romanian Athenaeum, accompanied by the Youth Orchestra of Bucharest. He then collaborated with the Philarmonic in Ploieşti, as well as the Radio Chamber Orchestra in Bucharest, and in 1995 he completed his Master in Music at the University of Illinois, USA. Throughout his career, Ion Bogdan Ștefănescu studied with renowned musicians such as Alain Marion or James Galway, and his artistic talent, as well as his contribution to culture were acknowledged through prizes like the Liones Club Prize for Best Performance (during the seminar conducted by James Galway in 2003), the "Cella Delavrancea" prize, and the "Cultural Merit Medal", Order of Knight. This last award marks his cultural influence, which transcends the musical sphere, as he is also an author, a librettist and a script writer. Since 2007 onwards, Ion Bogdan Ştefănescu has been a solo flutist at the "Banatul" Philarmonic in Timişoara. Considered to be one the best flutists of the moment and characterized by Sir James Galway as a "remarkable musician", the biography of Ion Bogdan Ștefănescu can be found in dictionaries such as "Men of Achievement", published in Cambridge or "Five Thousand Personalities of the World", published in North Carolina.
Bogdan Mihǎilescu began studying the violin at the "Dinu Lipatti" Music College in Bucharest and continued to study classical guitar at the Arts College in Bucharest, with Prof. Adrian Ionescu, and in Cluj-Napoca, with Prof. Valentin Fărcaş. Following the 1984 National Classical Guitar Competition in Sinaia, where he won the first prize, he started an intense performing and teaching activity in Romania, Germany, South Africa and Great Britain. Between 1997–2006, Bogdan Mihǎilescu lived in London, where he studied new guitar techniques with Prof. Gary Ryan and Carlos Bonell, regularly participating in masterclasses at the Royal Academy of Music. He returned to Romania in 2007, and since then has dedicated his entire activity to chamber music, giving numerous recitals throughout the country and not only. He plays with prestigious musicians in different formations from duet to quintet. The Latvian composer Anna Veismane specially dedicated her composition Hidden Dragons to Bogdan Mihǎilescu, which he performed as a world premiere at the Romanian Athenaeum in 2012. His musical achievements, considered as being those of an important promoter of the classical guitar in Romania, are documented in the well-known magazine "Guitar International" in the February 1987 issue.
Romanian pianist Diana Ionescu is hailed as one of the most enchanting performers of her generation. Guided from an early age by such personalities as Sanda Bobescu, Olga Szel and Dan Grigore, and later on by Alexis Weissenberg, Marta Argerich, Lory Wallfisch and Richard Goode, she was constantly encouraged to develop the extraordinary abilities she had shown as a child. Numerous prizes in international competitions (the First Prize in the "George Enescu" Competition – Bucharest 2001, the "Alexis Weissenberg" Prize, The Glass Seller's Trophy – London 2010), as well as her enthusiastically acclaimed performances within major festivals ("George Enescu" Festival 2001, Verbier Festival 2006, Progetto Martha Argerich 2008, St Prex Classics 2010-2011) have turned her into a valuable and active vector of Romanian culture abroad. While studying at the Guildhall School of Music and Drama with Joan Havill and Ronan O'Hora, she has performed extensively throughout the UK, in venues such as the Wigmore Hall, Barbican Hall, Queen Elizabeth Hall, Purcell Room, LSO St Luke's, St Martin-in-the-Fields, CBSO Birmingham, Covent Garden. Her collaborations with musicians like the "Belcea Quartet", the "Transylvan Quartet", violinist and composer Vlad Maistorovici, soprano Teodora Gheorghiu, as well as famous orchestras – the Romanian National Radio Orchestra, the Romanian Philharmonic Orchestra, the Guildhall School Orchestra –, ensured performances and recordings of the highest quality. In honour of these achievements, she has been awarded the "Ambassador's Diploma" for her contribution to the development of the British-Romanian cultural partnership (22 October 2011).
When: Thursday, February 6, 7pm
Where: Romanian Cultural Institute, 1 Belgrave Square, London SW1X8PH
Admission is free, but places are limited. Please confirm your attendance at T: 020 7752 0134, E: office@icr-london.co.uk
Seats are allocated on a first come, first served basis.