Enchanting and Spectacular 19th and 20th Century Music: Harp, Clarinet and Piano
16/06/2022 @ Romanian Cultural Institute in London, 1 Belgrave Square, SW1X 8PH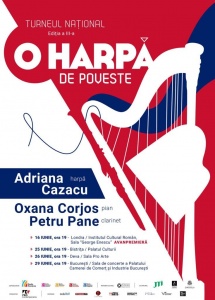 A delightful display of classical 19th and 20th century music performed by a sparkling and unusual trio of outstanding musicians Oxana-Lorena Corjos, Petru- Mihai Pane and Adriana Cazacu will make a truly magical evening. The element that connects this trio: clarinet, harp and piano is represented by the revival of the harp Erard, an instrument that symbolizes the roots and preservation of the Romanian musical tradition in the most beautiful and nostalgic way.
Programme:
Henry Purcell - Ground
Krzysztof Penderecki - Prelude for Solo Clarinet
Franz Schubert - Die Zauberharfe
Friedrich Smetana - Vltava, arr. Hans Trnecek
Sergei Rachmaninoff - Polka Italienne
Carmen Petra Basacopol - Pastoral Sonata
Francis Poulenc - Sonata for clarinet and pian
Bela Bartok - Romanian Dances
Pianist Oxana Corjos reveals through each stage appearance a remarkable musical talent doubled by a perfect piano technique. Growing up in a family of musicians, Oxana Corjos learned her first musical notions from her childhood, studying with Ioana Minei and Ana Pitiş. She then attended the National University of Music in Bucharest, where she studied with maestro Dan Grigore. She has been awarded numerous prizes at competitions in Rome (1991) and Barcelona (1986). In 1992 she was awarded the Cella Delavrancea Prize for her work in the field of culture. She appeared in numerous radio and television shows and made special recordings for the Romanian Broadcasting with works by Bach, Mozart, Beethoven, Mussorgsky, Debussy, R. Strauss, Prokofiev. She is professor at The University of Music in Bucharest.
Petru Pane is a young clarinettist, born into a family of musicians. He has started studying piano at an early age as an external student at the "George Enescu" High School, the class of teacher Ana-Maria Ciornei. After four years, his interest goes to the clarinet, studying this instrument with passion in the class of the admirable professor Ovidiu Căplescu. During this period he gave recitals at the "Enescu Museum" in Bucharest, at the Patria Hall - Brașov Philharmonic, at the Suțu Palace. He has won several awards: Award of Excellence in the instrumental performance competition "In memoriam Yehudi Menuhin", Second Prize in the national competition Iosif Sava, Second Prize in the Music Olympics, First Prize in the competition "In memoriam Dinu Lipatti" .
He worked with clarinettists Emil Vișenescu and Horia Dumitrache (Switzerland) and conductor Horia Andreescu. In November 2018, he made his solo debut with the "Mihail Jora" Bacău Philharmonic conducted by Ovidiu Bălan, after which he performed as a soloist with the Bucharest Engineers Orchestra.
Harpist Adriana Cazacu has given numerous solo and chamber recitals at prestigious institutions such as Șuțu Palace, Romanian Athenaeum, Hungarian Cultural Institute, Radio House, Romanian Youth Palace, Sibiu State Philharmonic, Palace Hall, National University of Music Bucharest. Collaborations for recordings with the National Radio Orchestra, the Radio Chamber Orchestra, the Romanian Youth Orchestra. She won prizes at national competitions. She has graduated her studies at the National University of Music in Bucharest, under the guidance of Professor Ion Ivan Roncea.
When: Thursday, 16 June 2022, 7PM
Where: Romanian Cultural Institute, 1 Belgrave Square, London SW1 8PH
Entrance is free but we kindly request you to book your ticket on Eventbrite. Please note that seating is unreserved.