Eminescu. The Eventual Crossing
20/06/2013 @ Romanian Cultural Institute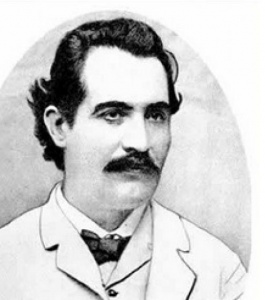 Although he travelled extensively since very young, the towering bard of Romanian poetry, Mihai Eminescu (1850–1889), never crossed the Channel. Belgravia will however be filled by his presence through an event celebrating the enduring work of the immortal poet in an original mélange of poetry, music and visuals. The show will star the acclaimed thespian Ilie Gheorghe, director Silviu Purcarete's favourite actor, as well as Mercury Quartet's violinist and composer Vlad Maistorovici, pianist Antoine Francoise and clarinetist Harry Cameron-Penny, while the visuals are conceived by director Cristian Luchian.
An evening attraction is the London premiere of the first ever film about the great poet, made by Octav Minar in 1914. Recently discovered in the National Archive of Film in Bucharest, the short was produced by Pathé and includes rare images from Eminescu's hometown Botoşani at the dawn of the 20th century, of landmark buildings in Iaşi where the poet worked or spent time with friends, and of his romantic portrait in bronze and his impressive tomb in Bucharest.
Ilie Gheorghe is one of the most excellent Romanian actors of stage and film. He made his debut at the "Marin Sorescu" Theatre in Craiova in 1967 and has performed on its stage ever since, with an impressive portfolio of roles in plays by Shakespeare, Shaw, Strindberg, Pirandello, Moliere, Zola, Dario Fo, Schiller, Caragiale, Sorescu and Davila. The actor has also performed in iconic Romanian films such as "The Moromete Family" or the "White Gold", and extensively on prestigious stages outside Romania, in the UK, France and Italy. He was awarded numerous prizes and distinctions both in Romania and abroad for his talent and commitment to theatre.
Mihai Eminescu is regarded as the most revered Romanian poet and Europe's last great romantic, blessed with a touch of genius. His work encompasses every genre of poetry (love, philosophical, cosmological, mythological, historical, socio-satiric, etc.) as well as prose and journalism. He was influenced by Schopenhauer's ideas, ancient Eastern philosophy and Romanian folklore, creating a highly personal synthesis about life, universe and human emotions, with an unmistakable sound. Eminescu's literary work has considerably influenced Romanian culture and his poems were translated in more than 60 languages. Poems such as "Lucifer", "Why Do You Wail, O Forest Trees", "Blue Flower", or "The Eve on the Hillside" have been popular with several generations in Romania and elsewhere in Europe and the world.
When: Thursday 20 June, 7pm
Where: Romanian Cultural Institute, 1 Belgrave Square, SW1X 8PH. The admission is free, but please confirm your attendance at office@icr-london.co.uk or 020 7752 0134.