Eliade after Eliade
13/04/2016 @ Romanian Cultural Institute, 1 Belgrave Square, London SW1X 8PH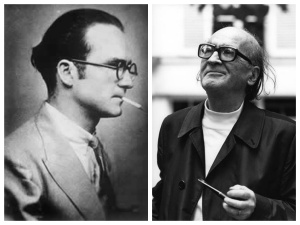 One of the greatest names of Romanian culture and a seminal historian of religions, Mircea Eliade is this year's focus of the Romanian programme at the London Book Fair. Original and encyclopaedic, regarded as a Renaissance-like character in the range of his scientific and artistic ambitions, the great writer was one of the most influential academics and literary figures in interwar Romania before becoming the revered international scholar and mentor.
To mark the English publication of Eliade's first novel, 'Diary of a Short-Sighted Adolescent' by Istros Books, Professors Sorin Alexandrescu, Florin Țurcanu and Bryan Rennie together with translator Christopher Moncrieff and editor Susan Curtis Kojakovic meditate on the cultural legacy and contemporary relevance of the legendary author.
The discussion will be accompanied by an exhibition dedicated to the life and work of Mircea Eliade, entitled 'Eliade in Photographs and Words'. Set up in the RCI Gallery, the exhibition follows, through a collage of old photographs, books, and emblematic excerpts, the life and work of the great author and scholar.
When: Wednesday 13 April, 7pm
Where: Romanian Cultural Institute, 1 Belgrave Square
Free entry. Please book in advance on Eventbrite.
Full programme of the Romanian presence at the London Book Fair.
The Romanian participation at the LBF 2016 is organised by the Romanian Cultural Institute's National Book Centre and the Romanian Cultural Institute in London, with the support of the Romanian Embassy, Waterstones Piccadilly, the Romanian Publishers Association, Istros Books, Penguin Books and Profusion Books. The project is funded by the Romanian Cultural Institute.