Effervescent Pianist Raluca Stirbat on London Tour
03/11/2016 @ Romanian Cultural Institute, 1 Belgrave Square, London SW1X 8PH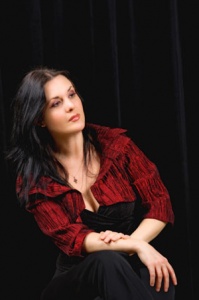 Amazing pianist and indefatigable cultural campaigner Raluca Stirbat, an outstanding musician hailed for her "dark sensuality", returns to our 'Enescu Concerts' Series with a programme that showcases her exceptional assurance and technical bravura. Described by Romanian composer Valentin Timaru as "a sorceress under whose fingers the keys of the piano start to sing", Raluca, who has recently finished recording Enescu's complete piano works for Hänssler Classic, will also perform at St James's Church on Piccadilly.
Programme - St James's Church, Piccadilly (2 November)
W.A. Mozart (1756-1791) – Fantasia in D minor, KV 397 (1782)
César Franck (1822-1890) – Prélude, Choral et Fugue, Op. 21 (1884)
George Enescu (1881-1955) – Sonata in D major, Op. 24 Nr. 3 (1935)
Programme - 'Enescu Concerts' Series, RCI London (3 November)
George Enescu (1881-1955) – Prélude et Scherzo in F-sharp minor (1896)
César Franck (1822-1890) – Prélude, Choral et Fugue, Op. 21 (1884)
Franz Liszt (1811-1886) – Mephisto Waltz Nr. 1, "Der Tanz in der Dorfschenke" (1859-1862)
George Enescu (1881-1955) – Sonata in D major, Op. 24 Nr. 3 (1935)
A graduate of Music Academy in Iași and Vienna Music University, internationally acclaimed pianist Raluca Stirbat started her career as a child prodigy. Throughout the years, since her debut at ten with Joseph Haydn's Piano Concerto in D major, she has performed in major concert halls of Europe and the United States. Raluca has been awarded many national and international prizes and her reputation has solidified thanks to an impressive collection of recordings made for Gramola, Swiss Radio DRS, Music Minus One, Hungaroton, VDE-Gallo. With Austrian Broadcasting Corporation, she has recorded all Enescu's songs. In August 2011, she founded the International George Enescu Society in Vienna. In summer 2012, Raluca initiated the international campaign "Save Enescu's Memorial House in Mihăileni" in order to salvage and restore the great composer's childhood home. For her special artistic achievements as well as her social commitment, in March 2013 the pianist was appointed an Integration Ambassador by the Ministry of Internal Affairs of the Republic of Austria. Last year, she released a world premiere with Hänssler Classic: the complete piano works of George Enescu. Raluca also holds a Ph.D. in musicology with a thesis on Enescu's piano works. Recently, she has been awarded Honorary Membership of the Pro Patrimonio Foundation.
When: 2 November (1pm) & 3 November (7pm)
Where: St James's Church, Piccadilly & Romanian Cultural Institute in London
Entrance is free but it is required to book your ticket on Eventbrite.
Please note that the seating is unreserved.