EDGERUNNER: PAUL NEAGU'S FIRST PUBLIC SCULPTURE IN LONDON
25/07/2012 @ Owen's Fields, Islington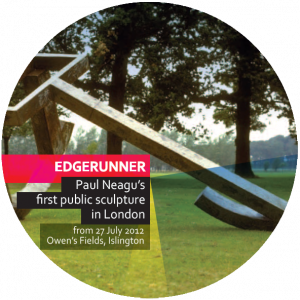 The Romanian Cultural Institute in partnership with the Paul Neagu Estate and Islington Council are proud to unveil the sculpture "Edgerunner" by British-Romanian artist Paul Neagu (1938 – 2004), often called the most important Romanian artist since Constantin Brancusi.
This is the first public artwork by an artist of Romanian origin presented permanently in London. The sculpture, offered by the Romanian Cultural Institute, Mr Tony Neagu and the Paul Neagu Estate to the people of Islington will be placed at Owen's Fields near Angel, close to the place the artist lived and worked.
Cast in stainless steel, the "Edgerunner" suggests a hybrid form derived from the concept of the 'Hyphen', central to Neagu's very own visual language. A mild steel version of the sculpture, created in 1982, was shown at the Serpentine Gallery as well as at the Yorkshire Sculpture Park, the London Business School and in five different locations in Scotland.
Paul Neagu grew up in Timisoara, Romania, graduating from The Academy of Beaux Arts in Bucharest in 1959. His work was prohibited during Ceausescu's regime, consequently the artist settled in London in 1970, after an invitation to Edinburgh from the arts impresario Richard Demarco in 1969. Neagu became a British citizen in 1976.
The artist's work ranged from performance, body art and installation, to sculpture, drawing, painting, printmaking and poetry. Neagu was also a much-valued teacher, Anish Kapoor, Antony Gormley and Tony Cragg being his most illustrious students.
Paul Neagu's work has been exhibited at Modern Art Oxford, the Paris Biennale, the Whitechapel Gallery, the Hayward Gallery, the Serpentine Gallery and the ICA London among many venues. His work is represented in important public collections, such as the Tate Collection, the National Museum of Art in Bucharest and the Museum of Contemporary Art in Tokyo.
When:
Wednesday, 25 July, 6pm
Where: Owen's Fields, Goswell Road, Islington EC 1V