Edge Hill University celebrates Romania's Centenary
20/11/2018 @ Edge Hill University's Creative Edge building, St Helens Road, Ormskirk, Lancashire L39 4QP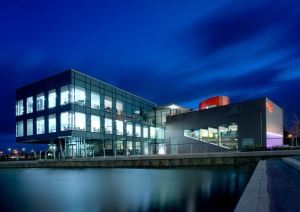 We are pleased to support Edge Hill University's event 'The Queen of the Damned: Vampires and Knights in British and Romanian Culture' celebrating the links between Romania and the United Kingdom in this Centenary Year. The programme comprises an exhibition that highlights the role of Romanian women, including that of Queen Marie of Romania, in World War One, a series of academic talks and the screening of Nae Caranfil's 'The Rest is Silence' (2007).
'The Rest is Silence' tells the story of the making of the first ever Romanian feature film in 1912, that included many visual recreations of the Romanian Independence War of 1877. Nae Caranfil is one of the precursors of the Romanian New Wave in cinema and one of the directors that bridge more traditional forms of film-making with the realism and minimalism typical of the Romanian New Wave.
Programme:
Opening of the photographic exhibition
Short talks. Presenters include Prof Matthew Pateman (Edge Hill University) on the appeal of vampires in popular culture, and Prof Raluca Radulescu (Bangor University) on The King and the Knight in Western and Eastern Medieval Cultures
Film screening (with a very short introduction) of 'The Rest is Silence'
Speakers at the event will include Andreea Berechet, Romanian Consul in Manchester and Viorel Raducanescu, Romanian Honorary Consul and Head of the Diplomatic Corps in Liverpool.
When: Tuesday 20 November 2018, 2-6pm
Where: Edge Hill University's Creative Edge building, St Helens Road, Ormskirk, Lancashire L39 4QP
Free entry.