East Meets East: The Romanian New Wave in the Olympic Boroughs
23/04 - 06/07/2012 @ Romanian Cultural Institute London and Four Corners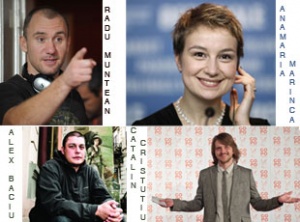 Four internationally-acclaimed Romanian filmmakers are part of an exciting project dedicated to young people from London's East End. It is a unique and special opportunity to learn from some of the best names in recent Romanian cinema, who will bring their contribution to the community's development in the Olympic boroughs.
The project entitled 'East Meets East' is part of the Romanian Cultural Institute's programme during the Cultural Olympiad 2012. It addresses to teenagers coming from disadvantaged environments and aims to offer them the chance to develop valuable skills in the process of filmmaking.
We are honored to have on board:
· director Radu Muntean, winner of the Golden Owl Award for Best Film at the Leeds International Film Festival and numerous official selections at international festivals - Un Certain Regard Cannes, New York, Gijón etc.
Selected filmography: Tuesday, After Christmas, The Paper Will Be Blue, Boogie, The Rage, Vorbitor.
· actress Anamaria Marinca, BAFTA award winner in 2005 for Channel 4's Sex Traffic and Best Actress at Palm Springs and Stockholm International Film Festival.
Selected filmography: 4 Months, 3 Weeks & 2 Days, Holby City, Storm, The Countess, The Last Enemy, Hotel Babylon.
· screenwriter Alexandru Baciu, Best Screenplay Prize at Hamptons International Films Festival.
Selected filmography: Tuesday, After Christmas, Principles of Life, Gruber's Journey, Boogie, Vorbitor.
· editor Catalin Cristutiu, Gopo - Romanian National Film Award winner.
Selected filmography: If I Want to Whistle, I Whistle, Medal of Honor, The Happiest Girl in the World, California Dreamin'.
They will all work with and help twenty selected students to learn about scriptwriting, storyboarding, sound, camera, acting, editing and post-production.
There will be three free workshops and masterclasses which will take the participants through the filmmaking process from script to screen and will encourage new skills in different aspects of filmmaking, as well as helping to build confidence, boost creativity and develop teamwork and social skills.
East Meets East is a partnership between the Romanian Cultural Institute and Four Corners Film, with support from East End Film Festival.
The event will take place throughout April, May and June, followed by a screening gala of a short film created by the participants and one making-of documentary at the East End Film festival.
Confirmed gala screening: Friday 6 July, 4pm, RichMix CInema. Free entry. More details.

When: 23 April – 29 June 2012;
Where: Romanian Cultural Institute London and Four Corners.