E-MOTIONAL Bodies & Cities
26/01/2013 @ Watermans Arts Centre, 40 High Street, Brentford, Middlesex TW8 0DS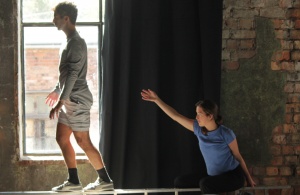 Artists Gemma Riggs (UK), Mircea Ghinea (Romania), Laura Murphy (Ireland), Kaspers Lielgalvis (Latvia) and Alexis Vassiliou (Cyprus) embark together in a co-authorship process to explore, through dance and visual arts, the relation between the human body, the urban and geo-political context and new technologies.
A series of five cross-border working periods will be organised alternatively in Dublin, Riga, Limassol, London and Bucharest to question the emotional body and its relation with these cities. The groups will have the chance to interact, work and benefit from the support of local dancers or other associated artists. Each research period will also include a number of workshops and video-lectures open to local participants and artists, and will conclude with a presentation open to the local audience in the respective city.
The London residency will conclude with a showcase that will take place at Watermans Arts Centre, followed by the partners meeting held at the Romanian Cultural Institute.
'London – Mapping the E-Motional City' Artistic Research is produced and directed by body>data>space with Watermans Art Centre, supported using public funding by Arts Council England. In association with the Romanian Cultural Institute, with the support of the Cyprus High Commission, the Embassy of Ireland and the Embassy of Latvia.
E-Motional Bodies and Cities is a project developed with support from the Culture 2007-2013 Programme of the European Union, led by Gabriela Tudor Foundation (Romania) with co-organisers Dublin Dance Festival (Ireland), Dance Ireland, The Association of the Professional Dance Choreographers of Latvia (Latvia), Dance House Lemesos (Cyprus) and body>data>space (United Kingdom).
More on the project: http://www.bodydataspace.net/2012/12/london-%E2%80%93-an-e-motional-city/
The events will take place as follows:
Sat 26 Jan 2013, 6-8 pm – artistic showcase @ Watermans Arts Centre, 40 High Street, Brentford, Middlesex TW8 0DS. If you would like to attend please RSVP to leanne@bodydataspace.net by Tues 22 January.
Sun 27 Jan 2013, 11am-6pm – partners meeting @ Romanian Cultural Institute London, 1 Belgrave Square, London, SW1X8PH.