Dubliners for a day
23/02/2014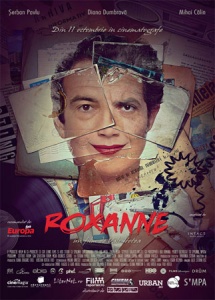 This year, Valentin Hotea's 'Roxanne' (2013) is the Romanian entry in the official selection at the Jameson Dublin International Film Festival, the oldest partner of ICR London across the Irish Sea. Another Romanian presence in the festival will be the one of Mihai Chirilov, our most successful film programmer. If you're in Leo Bloom's town, don't miss the encounter with this true standard-bearer of Romanian cinema.
One of the most underwhelming attempts by Romanian directors to deal with the communist dictatorship and its lingering aftermath, 'Roxanne' is set in the city of Bucharest, twenty years after the Romanian Revolution, and tells the story of Tavi Ionescu, a nice but quite immature guy for his late 30s, who finds out from his Securitate (Romanian Secret Police) file that he could be the father of a son he didn't know about. Starting his own secret investigation, Tavi is caught up in a complicated past that now comes to reveal ugly hidden truths, messing up his life and the lives of the ones close to him. For the first time in his life, he is forced to make really mature decisions.
"What I found appealing in this story was the honesty of a tale about friendship, betrayal and courage, and also the very sensitive way of tackling a delicate social and historical issue using a punctual example that is more convincing than an entire recent history book." - producer Ada Solomon
After graduating from the National University of Theater and Film (UNATC) in Bucharest, Valentin Hotea directed several short films, such as 'The Big Adventure' (1994) and 'The Lesson' (1997). He also made several music videos and commercials before starting working for the National Television, where he directed several documentaries and TV series such as 'Roberta' (2000), 'Dream Trip' (2004), 'Homicide Squad' (2007) and 'Sailor's Daughters' (2009). 'Roxanne' is his feature film debut.
Co-founder of the Romanian Film Initiative, Mihai Chirilov has been the Artistic Director of the Romanian Film Festival in NYC since its founding in 2006. A film critic and film festival curator, and a FIPRESCI member since 1998, Chirilov is the artistic director of the Transylvania International Film Festival (TIFF, which he co-founded in 2002). His work as a curator also includes, among others, the British Film Festival in Bucharest (1999-2007), and a two-week film series dedicated to the New Romanian Cinema, while on residency at Jacob Burns Film Center in Pleasantville, New York (2011). In March 2012, he co-organized, with the Museum of Modern Art and the Romanian Cultural Institute in New York, the first complete retrospective of Lucian Pintilie's work in the United States. He also has a wide experience working as an editor for the monthly film magazine ProCinema (1995-1999), Republic Magazine (2005-2008), aperiTIFF magazine (2010-2012), and contributed to numerous Romanian and international cultural publications (including Cahiers du Cinema, the KinoKultura and FIPRESCI websites, Dilema, Observator cultural, Cosmopolitan, FHM).
When: 23 February, 5 pm
Where: Cineworld 8, Dublin