Dublin Lab Sounds Romanian
08/06/2013 @ Smock Alley Theatre, Contemporary Music Centre, Fishamble Street, Temple Bar, Dublin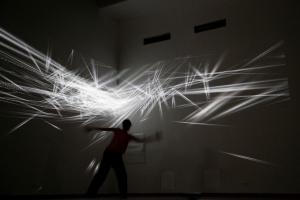 Six new Irish and Romanian collaborative pieces integrating acoustic music, live electronic music, interactive video and dance will debut at the daring Dublin Sound Lab with the support of the Romanian Cultural Institute. The programme features four commissioned works by Fergal Dowling, Jonathan Nangle, Piaras Hoban and Sabina Ulubeanu, the theatrically inspired mixed-media piece "Ani-motions" by Diana Rotaru, and Cătălin Creţu's stunning interactive dance and video work, "Inner Dust".
The show will take place in the Main Space at Smock Alley Theatre and involves an accomplished ensemble made of Ana Chifu - flute, Maria Chifu – bassoon and Michael Quinn – harpsichord, as well as the famous contemporary dancer Philip Connaughton.
Dublin Sound Lab is a music group specialised in contemporary electro-acoustic music and computer-mediated performance. Formed in 2008 by organist Michael Quinn and composer Fergal Dowling, the group have premiered more than forty works by Irish and international composers and have also performed in Paris and Bucharest. Viola player Garth Knox and leading Austrian composer Karlheinz Essl are amongst the most renowned collaborators of the group.
When: Sat 8 June 2013, 8pm
Where: Smock Alley Theatre, Contemporary Music Centre, Fishamble Street, Temple Bar, Dublin
Tickets: €15/10, book HERE