DOINA IOANID IN LONDON'S POETIC HEAVEN
28 - 30/06/2012 @ Southbank Centre, London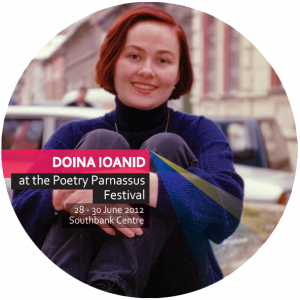 Romanian poet Doina Ioanid joins the world's most exciting 203 poets, rappers, spoken word artists, singers and storytellers representing each competing country in the Olympic Games for a week of readings, talks and performances as part of the largest poetry festival ever staged in the UK, Poetry Parnassus, at the Southbank Centre.
We are proud to support her participation in the following three events, a sparkling firework display of poetry with leading international and British poets:
New World Order, 28 June, 6.45pm, Purcell Room
Featuring: Serhiy Zhadan & Sam Rivoire; Jacek Dehnl & Kei Millar; Nikola Madzirov & David Tait; Christian Campbell & Valzhyna Mort; Doina Ioanid & Clare Pollard; Ana Ristovic & Chris McCabe; Ilya Kamisky & Kate Kilalea; Kristiina Ehin & Tishani Doshi. Tickets £5.
The World School, 29 June, 5pm, Level 5 Function Room
Featuring: Damir Šodan, Ana Ristovic, Doina Ioanid, Taja Kramberger, Nikola Madzirov, Luljeta Lleshanaku Poetry from the Balkans. Free admission.
Prose Poems, 30 June, 1pm, White Room
Featuring: Ryoko Sekiguchi, Hassan El Ouazzani, Doina Ioanid. Hosted by Philip Cowell. Free admission.
Doina Ioanid (b.1968) studied French language and literature at the University of Bucharest, where she became a member of the writers' workshop 'Litere' led by the renowned novelist, poet and essayist Mircea Cărtărescu. The collective released a volume 'Ferestre' ('Windows', 1998); of which all the poets later became reputed representatives of the "generation 2000". Her first volume, 'Duduca de marţipan' ('The Marzipan Damsel') came out in the year 2000, to be followed by four further volumes, including the latest one: 'Ritmuri de îmblânzit aricioaica' ('Drumbeats for Taming The Hedgehog Sow', 2010). Since 2005, Doina Ioanid has been working as senior editor for 'The Cultural Observer', a leading Romanian cultural weekly.
Poetry Parnassus is part of the London 2012 Festival and the Festival of the World.
When: 28, 29, 30 June
Where: Southbank Centre, London.