DJ Nico de Transilvania's Debut Album Is Launched at RCI London
09/11/2018 @ Romanian Cultural Institute, 1 Belgrave Square, SW1X8PH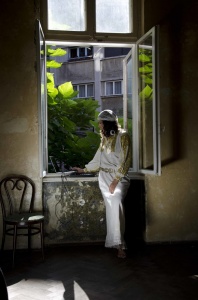 After a lifelong love affair with music and a well-established DJ-ing career, Nico de Transilvania, the British-Romanian musician and cultural entrepreneur, launches her first ever album at 1 Belgrave Square, together with her own label - 'Muzică Without Frontiers'. The event promises to get you into the groove for the weekend.
Entitled 'Be One', the album has grown from Nico's passion for traditional Romanian and South-East European melos and electronica and aims to preserve the old traditional instruments and folk songs from Transylvania and bring them back to life on an electronic dance music platform.
"This album weaves together the two genres of music that I have been DJ-ing - electronic dance music and world music - and is co-produced in collaboration with Tom Beaufoy (Evil Nine) and Abstract Source, both of them helping me compose the style of music I love to dance to. With this in mind, I have designed the album as one of my own DJ sets, bringing the soul to the electronic music by using live instruments and vocals recorded by Wes Maebe in the mountains of Transylvania, as well as the recording studios in Bucharest and London. It is also meant to make you move your body, which is the goal of all of my sets - to make us dance! This is a 'Muzică Without Frontiers' production and all of the pre-order sales will go straight into making the album and short film happen! This is a not for profit project; the record label 'Muzică Without Frontiers' will donate towards the preservation of the virgin forests of Transylvania via its own charitable initiative 'Wild Forest Forever' and the artists involved in the project. I would like to acknowledge the Administration of the National Cultural Fund in Romania, who have part-funded this project and helped me make it happen." (Nico de Transilvania)
When: Friday, 09 November 2018 from 19:00 to 21:00
Where: Romanian Cultural Institute - 1 Belgrave Square London SW1X 8PH
Free entry. By invitation only.