Dispatches Across the Continent - Contemporary Journalistic Accounts of Romania's Most Important Hours
10/09 - 10/12/2020 @ online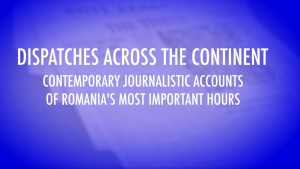 "Dispatches across the Continent - Contemporary journalistic accounts of Romania's most important hours" is the series that makes you an eyewitness of the tumultuous and surprising history of modern Romania starting with its emergence as a national state in the 19th century right until the NATO and European integration at the beginning of the third millennium.
Each fast-paced episode focuses on a specific period and benefits from the expertise of Dr. Florin-Nicolae Ardelean of Babes-Bolyai University, Cluj-Napoca, who has selected vivid contemporary accounts from prominent British publications enriched with contextual information which will expand your understanding of recent European history.
Developed by the Romanian Cultural Institute in London with the kind support of the Embassy of Romania in the UK, the British Embassy in Bucharest and the British Council Romania, "Dispatches across the Continent" is one of the events on the cultural agenda marking 140 years of British-Romanian diplomatic relationships.
Many thanks to Ambassadors Dan Mihalache and Andrew Noble, and to British Council Romania Director Nigel Bellingham for their continous support, as well as to Dr. Florin-Nicolae Ardelean for research and presenting, to Ellie Buchdahl for narrating the articles, to Elena Stanciu & Tibi Iordan for the video and to Matei Parascan for the editing.
Episode 1: Independence and International Recognition (1859-1881)
Episode 2: The Consolidation of the Modern Romanian State (1881-1914)
Episode 3: Romania in the First World War (1914-1918)
Episode 4: The Great Union (1918-1922)
Episode 5: Interwar Period (1922-1938)