'Desolation: Corpus Aliena' - A Photography Exhibition by Paul Arion
10/07 - 22/09/2019 @ Romanian Cultural Institute, 1 Belgrave Square, SW1X8PH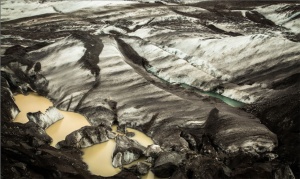 London-based artist Paul Arion, the only Romanian with three Oscars in his resume, is our special guest this summer. His photography exhibition, entitled 'Desolation: Corpus Aliena', opens in our Brâncuși Gallery with a talk between the artist and the show's curator, photographer and director of London's Italian Cultural Institute Marco Delogu.
Can void exist? This stunning collection of photographs is a direct representation of solitude, found within the nothingness of vast spaces without human life. How we feel isolated and insignificant in front of the bigger picture and the possibility of being on earth and not perceive earthiness. The Silence, the absence of noise and human interference, the confusion of scale and space. As the photographer states, the infinite space between atoms that creates the matter in the known universe can't be compared to the emptiness of anything you see.
In 2001, Paul Arion moved to Canada, where he started working for Core Digital Pictures and Core Feature Animation, companies dedicated to Visual FX in feature films. In this period he worked on multiple film projects such as 'Silent Hill', 'Ant Bully', 'The Tudors' and 'The Wild', a feature film produced by Walt Disney. In 2008, Paul decided to move to enhance his career in higher visuals and budgeted films to combine all the techniques he had mastered. In London, he started another decade of collaboration with Moving Picture Company, delivering films like 'Superman: Man of Steel', 'Maleficent', 'Harry Potter' and many others, and had the opportunity to work with Ridley Scott on his epic science fiction 'Prometheus'. In 2015, in Hollywood, he collaborated on Academy Award winner 'Jungle Book', considered one of the most ambitious visual-effect films in Motion Picture history. Shortly after he took on a new role as Global Head of Layout for DNEG, overseeing multiple studios distributed throughout the globe. He and his team continue to deliver huge successes for Marvel, DC, Harry Potter franchise and many others. Paul's photography is the result of his passion for how he perceives the world and captures it with the best of framing, lighting, and composition.
When: Opening and drinks reception 10 July 2019, 7-9pm. The exhibition continues until 22 September 2019, Monday to Friday between 10 am – 5 pm. Please call us at 020 7752 0134 to arrange your visit.
Where: Romanian Cultural Institute, 1 Belgrave Square, London SW1X 8PH
Free entry. Please confirm your attendance on EVENTBRITE.