Deconstructing the Iron Curtain
22/11/2012 @ UCL School of Slavonic and East European Studies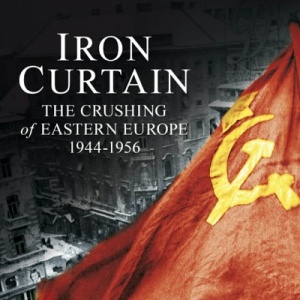 Anne Applebaum in conversation with Professor Geoffrey Hosking
We are delighted to team up with the Polish Cultural Institute in London and UCL School of Slavonic and East European Studies for the event "Desconstructing the Iron Curtain" – a conversation between Anne Applebaum and Professor Geoffrey Hosking (UCL SSEES) around Applebaum's latest book, "Iron Curtain: The Crushing of Eastern Europe 1944-56".
The book explains how Communism was imposed on the previously free societies of Central and Eastern Europe in the decade after the end of the Second World War. Romania's sovietization is examined in detail, the author describing how all state institutions, political parties, the church, and the media were quickly restructured according to the Soviet model. She also analyzes the repressive means and methods used by the Communists against the people, whose only choices were to fight, to flee, or to collaborate. Thousands of arrests were made among the anti-communist youth, obligatory communist parades were introduced, while portraits of members of the Romanian Workers' Party replaced religious icons. Ranging widely across new archival material and many sources unknown in English, Applebaum reveals the communists' way to power and the story of life behind the Iron Curtain.
Anne Applebaum is an American journalist and Pulitzer Prize-winning author who has written extensively about communism and the development of civil society in Central and Eastern Europe. She is director of political studies for the Legatum Institute and a columnist for the Washington Post and Slate. Anne Applebaum took up the post of Philippe Roman Chair in History and International Affairs at the London School of Economics and Political Science in October 2012. She is married to Poland's Minister of Foreign Affairs, Radosław Sikorski.
Geoffrey Hosking is Emeritus Professor of Russian History at the UCL School of Slavonic and East European Studies where he taught for 23 years. Having worked on the borders of political and cultural history, his attention turned to the "strange and paradoxical situation" of the Russians as the dominant people first in the Russian Empire and then in the Soviet Union. In recent years Professor Hosking has been looking at the question of trust as a social phenomenon generally and specifically in the context of what structures of trust actually existed in Russian/Soviet society.
Followed by reception.
FREE but registration essential by 19 Nov: anneapplebaum.eventbrite.co.uk
The event is organised with support from the Allen Lane, Penguin Books.
When: Thursday 22 November, 5:30-8pm
Where: Cruciform B304 Lecture Theatre 1, Cruciform Building, Gower Street, WC1E 6BT London