Dashing Valentina Naforniţa in Recital at EIF
12/08/2015 @ Queen's Hall, 85-89 Clerk Street, Edinburgh EH8 9JG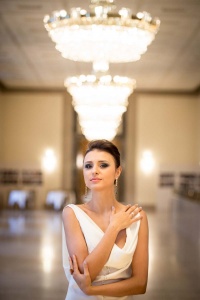 The Vienna Staatsoper star Valentina Nafornița, who won the BBC Cardiff Singer of the World competition in 2011, offers an irresistible treat of Romantic lieder and songs as part of the Edinburgh Festival official selection. The recital, also featuring distinguished accompanist Roger Vignoles, will take place in Queen's Hall, one of Britain's legendary music venues with the support of the Romanian Cultural Institute in London.
The programme of the recital features Lieder and songs by Fauré, Liszt, Bartók, Rachmaninov, Tchaikovsky and Dvořák. This concert will be broadcast live on BBC Radio 3.
You can find out more about this event on the official page of the Edinburgh International Festival.
"Valentina Naforniţa has a ravishing stage presence with a naturally vibrant voice, rich in the middle and silver at the top... a stamina that augurs well for a starry future." - Opera magazine
When: Wednesday 12 August, 11am
Where: Queen's Hall, 85-89 Clerk Street, Edinburgh EH8 9JG
Tickets: £30-£8.50. You can book HERE.