DAN AND LIA PERJOVSCHI AT THE WIDE OPEN SCHOOL
27 - 29/06/2012 @ Hayward Gallery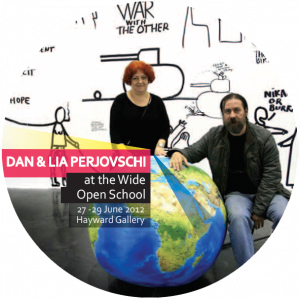 Acclaimed artists Dan and Lia Perjovschi teach this summer at the Hayward Gallery, alongside over 100 artists from 40 different countries coming to London to establish a temporary refuge for lateral thinking: the Wide Open School. Part of the Festival of the World, the project is an unusual experiment in learning, open to everyone, including workshops, collaborative projects, collective discussions, lectures and performances about any and all subjects in which the participant artists are passionately interested.
The renowned Romanian duo Dan and Lia Perjovschi will lead group discussions on geographies and public life, empowering participants to develop their own ideas and to rethink how to use books, mass media, everyday culture and art.
Playful and serious at the same time, the artists will run a three-day workshop, based on the conviction that the best approach in art and life in general is to make what you can out of what you have. Group discussions will take place throughout the class, and at the end of the workshop, the class will produce a collective fanzine and a personal timeline inspired by actual political, social and private events.
Dan Perjovschi will talk about his work on Wed 27 June, 7pm at South London Gallery, more details at: www.southlondongallery.org
Dan Perjovschi (b. 1961, Sibiu, Romania), Lia Perjovschi (b. 1961, Sibiu, Romania).
Dan and Lia Perjovschi's separate and highly personal approaches to art are deeply rooted in performance. Dan creates 'temporary drawings made with permanent markers,' which mix humour with satire and comment on current political, social and cultural issues. They are made on site in museums and art galleries.
Lia's installations combining images, texts and objects are visual representations of her knowledge, experience and memories of international contemporary art. After 1989, Lia began to focus on conceptual projects such as 'Timelines', 'Mind Maps', and 'Knowledge Museum', which encourage the sharing of knowledge, ideas and information.
When: 27 – 29 June, approximate duration 3 hours each day.
Where: Hayward Gallery Room 1, Southbank Centre
Price: £30 for three days. Concessions: 50% off (limited availability).
Book tickets here.