Dance, London's New "Currency"
14 - 23/11/2013 @ The Place, 17 Duke's Road, London WC1H 9PY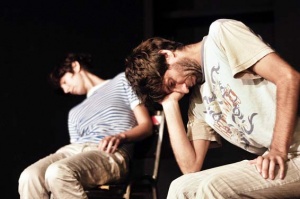 Romanian artists Florin Flueraş and Alina Popa take part in Currency, London's newest dance festival, a common initiative of The Place, Crying Out Loud, EUNIC London and EU Commission Representation in London.
Expect shows that defy convention and studio collaborations that are purposely wrong-footing, featuring some of the best emerging talents in European performance today.
Florin Flueraş is author and coauthor of projects like "Postspectacle Trilogy", "Romanian Dance History", "A Brave Search of the Ultimate Reality", "Cooperativa Performativa", etc. His projects stand somewhere at the borders of contemporary art, performance, activism and political theory. The artist explores, investigates and performs the power of spectacle and the spectacle of power.
Alina Popa is co-founder of the Bureau of Melodramatic Research that seeks to address the current normative neuro-choreographies. She is interested in what escapes the generalized spectacle and, consequently, has started to develop concepts and practices like biosorcery, secondbody, and nonvisual monsters together with Florin Flueraş. The artist has participated in various exhibitions and events such as "Interflugs" at the Academy of Arts in Berlin, "Perla Mode" in Zurich, "Dramatikkenshus" in Oslo, "Jardim Equatorial" in São Paulo and the cda-projects in Istanbul.
When: 14-23 November 2013
Where: The Place, 17 Duke's Road, London WC1H 9PY