CULTURAL STATIONS
19/07 - 12/08/2012 @ Trinity Square Gardens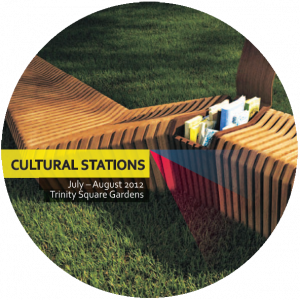 Concept: Minodora Cerin and Mircea Mărgărit
A gift of Romania to the people of London, 'Cultural Stations' invite you to experiment a new concept of open-air relaxation that creatively combines cultural history and design.
Composed of three modules, the "Literary Station", the "Scientific Station" and the "Multicultural Station", the installation responds to London's vibrant identity and to the Olympic values, aiming to create a lasting legacy for Londoners and visitors to the capital.
Imagine sleeping in a field of flowers, finding love or chasing after a mythical beast. Works of literature are filled with these special moments. The "Literary Station" encourages you to dream alongside great minds of British and Romanian fiction and verse - Shakespeare, Dickens, Woolf, Eliade, Tzara, Eminescu amongst many others. Slow down, discover unforgettable sayings and feel inspired for a lifetime.
Are you prepared for a journey across the centuries alongside high fliers of British science? Are you interested in computers, mathematics, time travel, medical mysteries and science fiction? Stop at the "Scientific Station" and find out who and when changed our understanding of the universe forever.
Did you know that the largest number of community languages in Europe can be found in the United Kingdom? Over 300 languages are currently spoken in London, some of the most established of these being English, Bengali, Gujarati, Punjabi, Hindi, Cantonese and Mandarin. The "Multicultural Station" invites you to explore London's great diversity and to share the classical elements of Earth, Air, Fire and Water that unite the world with your family and friends!
The stations are produced by Concret Design Cluj. The project takes place with the kind support of Mr Iosefin Florea from RoExport.
Partner: Tower Hamlets Council.
When: until 2013
Where: Trinity Square Gardens, near Tower of London